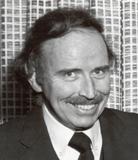 James D. Murphy
Chairman Emeritus MWCC Board of Trustees
In 1981, Jim was appointed to the first MWCC Board of Trustees.  He was named the first chairman and served in that capacity for 11 1/2 years.  He was a member of the Massachusetts Community College Association, serving as its VP and was its President for two years.
Jim is a community activist and public servant, volunteering for numerous local organizations.  He serves as treasurer of the Gardner Redevelopment Authority and is on the Gardner Council on Aging.  He was chairman of the Gardner Salvation Army Service Unit for 15 years, a member of the Salvation Army Eastern Territorial Advisory Board, Monty Tech Advisory Boards, and Chairman of Bankers' Education Forum.  He is an elected member of the National Cartoonist Society and illustrated a local history book entitled Profiles of the Past.
Jim was the Advertising Director and staff artist at The Gardner News for twenty-five years and the Marketing and CRA Officer at New England AllBank.  He is the recipient of numerous local and state awards including being named A Grand Gardnerite, the Gardner Chamber of Commerce Citizen of the Year and Community Service Awards and Thomas H. Binnall Outstanding Citizenship award.