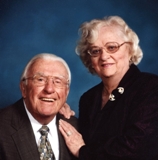 Library Dedication, Tuesday, August 22, 2006
Welcome – Daniel M. Asquino
Recognition – Jay Davis Drake & Richard Flannagan
Presentation & Unveiling – Daniel M. Asquino
Message from the Chairman – Frederick D. Healey
With the dedication of the Leo & Theresa LaChance Library, Mount Wachusett Community College recognizes the exemplary work Leo and Theresa LaChance have done in our communities. Leo's stewardship of the college's first-ever capital campaign culminated in raising nearly $4 million, part of which funded the renovation of this library. This is just one example of Leo's tireless fund-raising in the Greater Gardner area. The couple's philanthropy supported Heywood Hospital's "Caring for the Future" capital campaign, the hospital's maternity center campaign, and many local drives for the Heart Fund, Gardner United Way, and Holy Rosary Parish.
The parents of four children, including two with mental disabilities, Leo and Theresa have also made donations to the University of Massachusetts Medical School to endow the Leo P. and Theresa M. LaChance Chair in Mental Retardation and Behavioral Health and ARC Community Services for their building and capital needs and also personally build homes for mentally challenged adult clients, including their two children.
In addition to providing monetary support for special projects at The Fernald School in Templeton over the years, Theresa volunteered countless hours there. She is renowned for her work to build the raffle fund-raiser at The Fernald School's Annual Fair. She grew the number of businesses donating raffle items to 170 and sold one thousand tickets herself each year. Theresa also was a volunteer for Heywood Hospital's annual golf tournament for many years. She is remembered as "the mother to all the boys" at The Fernald School and "the glue that has held the family together."
Meanwhile, Leo made his mark on the area as a developer, building many businesses, shopping plazas and residential neighborhoods in North Central Massachusetts and beyond.