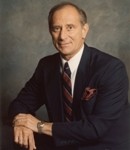 Dr. Daniel M. Asquino, 1987 – 2017 
President 
As President of Mount Wachusett Community College for the past 26 years, I have been fortunate to lead the charge of the community college mission and have experienced the many faces of transformation and growth at "The Mount." Without question, we have evolved over the past 50 years from a barely known small college office space in downtown Gardner to a comprehensive community college, offering affordable and accessible education for all, and recognized as a national leader in renewable energy and civic engagement.
How lucky I am to be President of such a fine educational institution. I love Mount Wachusett Community College and believe we are the true reality of hope and opportunity to attain the American dream. What a privilege it has been to work with so many wonderful people within our communities, on our campuses, across the state, and throughout our nation. I have enjoyed leading MWCC's growth to over 12,000 credit and noncredit students and ensuring that we serve as a major economic engine for the north central region with over 1,000 employees across 4 campuses.
Like any "long-timer," I cherish the good ole days and have learned much from my past experiences. Nonetheless, change is evident over time, and we learn much from new perspectives. I am always encouraged by the MWCC family with their willingness to embrace change, try new things, and move forward. I am excited about who we are and who we may become. I welcome with open arms continued opportunity, growth, and progress at Mount Wachusett Community College.