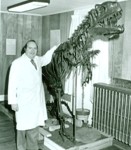 Allan P. Russell, Ed.D, 1982 – 2007
Vertebrate Paleontologist
I was employed at MWCC full time from August 1982 to July 2007.
I was originally hired as Director of Medical Laboratory Technician Program and worked in that capacity for 11 years.
I was Director of the Industrial Pollution Control Program while that program was associated with the college through a grant program.
During my years at MWCC, I was a member of the Biology Department for 25 years and I developed the Earth Sciences section and worked in the Earth Sciences for 14 years. I taught Biology, Zoology, Anatomy and Physiology, Human Sexuality, Introduction to Medical Laboratory Technology, Hematology, Seminar in Medical Technology, Historical Geology, and Physical Geology and Dinosaurs.
Being employed at MWCC allowed me to fulfill a life-long dream to teach college students the wonders of the Scientific Universe. I was able to attend many professional meetings and seminars in Medical Laboratory Technology and Vertebrate Paleontology and was able to pass the most current information in my field to my students. The congenial workplace my colleagues and I developed allowed for the exchanging of ideas in our fields and the general field of education. Techniques for aiding students in learning difficult concepts helped all of us, faculty and students, to become better able to succeed in achieving our goals. I was able to begin a collection of minerals and Dinosaur reproductions for the Biology Department that is still being used to the enjoyment of the college community. I was pleased to donate a large slab of Dinosaur tracks which is located at the front entrance on the walkway. This slab was one of several self-collected specimens. There is also a slab located at Worcester State University, located near the library.
In the years before being employed at MWCC, I was a Supervising Laboratory Technologist, and in that capacity, I assisted at many autopsies which helped me in my teaching of Anatomy and Physiology to nursing students. I published several scientific journal articles and a textbook on Hematolgy.