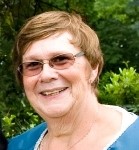 Ann Dennett Greene, 1969-2003
Professor of Sociology
I loved teaching Sociology, Social Problems and Drug abuse at the Mount. Many of my students were Criminal Justice and Human Service majors, who have worked successfully in their chosen fields in the Worcester County area. It is rewarding to meet former students and see what they have accomplished in life.
I thoroughly enjoyed the educational challenges and rewards of my 34+ years at the Mount, and although I cannot remember all the names of the thousands of students I met in my classrooms, I am proud of any impact I had on their lives.