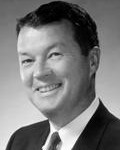 Arthur F. Haley, Founding President 1963-1986
The main building of the Gardner campus was named in honor of the college's founding president Arthur F. Haley. Dr. Haley served the college for 23 years. He was appointed as Director of the new community college that was to be set up in Central Massachusetts. With that charter, Haley had the daunting task to select a temporary location for the college, hire faculty and staff, design a curriculum, and begin classes in September 1964.
Haley selected the former Gardner High School in Gardner for the temporary campus and later expanded the College's operation to two other buildings in the city. As the college opened, Haley began the process to select a location to build a permanent campus. After many proposals and much deliberation, ground was broken at the site of the former Heywood Farms location on Green Street in Gardner. In September 1974, the permanent campus was opened, and upon his retirement, the main building was named for President Arthur F. Haley.