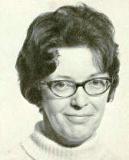 Catherine "Kitty" Foley, 1972 – 1999
Staff Assistant
I started as "Miss Information" in the kiosk on Elm Street in what is now the Helen Mae Sauter School.
Mentors for me came in the form of co-workers who helped me transition to Admissions and finally to Planning and Development.
My fondest memories are of students who came to Admissions haltingly but left two years later proudly with their diplomas.