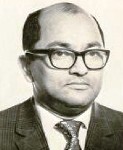 Dario Valdes, 1968 – 1999
Professor of Spanish and Business Math
While teaching at MWCC I had the opportunity to become a friend to many of my students and advisees.  I had a great satisfaction when some of them, after graduating from MWCC, came back to say that thanks to some of their professors for helping them to continue their education and do well.
In one occasion, an advisee complained about a professor for being demanding.  She called him a nice name. I told her that he was an excellent and dedicated professor. Three years later she came back to visit the campus and she visited me and asked me if a remembered what she said about professor …?  Yes, I do, was my answer. Then she said "because of him I was able to graduate at…. There, they are really bastards.
After retiring we moved to Leominster, Mass. but we spent winters in Boqueron, Panama, a town near the Costa Rican border.