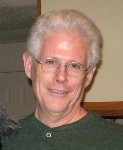 David J. Patterson, 1982 – present
Professor of English
I came to MWCC in 1982 to start my 15th year of teaching English. I attained the rank of Professor of English (for the second time in my career), and along the way, I served at various times as Chairman of the Developmental Education department, the Academic Affairs Committee, and the English Department. My priority and my greatest pleasure have been my students. I have always believed wholeheartedly in the ideal of the community college: an open door policy, a striking diversity among students in ages, genders, sexual orientations, races, and cultures, and colleagues deeply committed to the same ideal. I have always worked best in discussions and one-on- one with writers, and getting to know my students has been a joy. (My wife Melanie and I were married by one of them!) I also pride myself in having logged the most motorcycle-commuter miles of anyone on the staff over the past thirty years (an undocumented but as yet uncontested claim). It may seem quirky, but riding to MWCC on a clear morning through beautiful New England wooded landscapes to work with students usually sacrificing to earn their educations has often given me a feeling of being blessed.