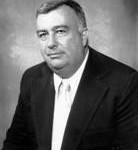 Frank K. Hirons, 1973 – 1991
Assistant to President
From tribute plaque located at the Frank K. Hirons Multi Media Complex – Rooms 125 & 127.
Prior to his retirement in 1991, Frank K. Hirons served as Assistant to the President for Public Relations at Mount Wachusett Community College for nearly twenty years. However, his service and commitment to the college extends back to the time when the idea of a community college in North Central Massachusetts was conceived. Frank Hirons was a member of the Site Selection Committee and was instrumental in the purchase of the property where the college was ultimately built. He also was appointed as the Chairman of the first Advisory Board where he served for five years assisting President Arthur Haley in developing policy, selecting temporary sites for the college and securing an appropriation to build a permanent college. Frank Hirons also was a member of the committee to select a name for the college.
Mr. Hirons graduated from Boston University with a Bachelor of Arts degree in Visual Arts and Motion Pictures and earned a Master of Arts degree in College Administration from the University of Massachusetts. His military career spanned 36 years in the Air Force, Air Force Reserve and the Air National Guard, from which he retired as a Colonel. He was also a member of many committees and commissions in the City of Gardner.
Frank K. Hirons deserves the title, "Mr. Mount Wachusett Community College."