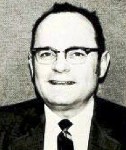 Joseph S. Baldyga, 1970 – 1995
Professor of Marketing, Economics and Management
I came to the Mount after an interesting career in Technical Sales/Marketing Management and over the 25 year period, was able to teach many different courses in those areas.
It was a pleasure for me to participate in preparing many young students for rewarding and fulfilling careers in business and non-profit organizations as well.  Years later, I am still astonished at the breadth of the education and opportunities our students had available to them.