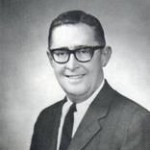 Joseph B. Ruth, Jr., 1966 – 1995
Professor of Business and Management
During the 1995 Commencement Ceremony, Joseph B. Ruth, Jr. was honored for his years of service by being appointed to Professor Emeritus Status. The June 1, 1995 Resolution appears below.
BE IT RESOLVED by those present that the following resolution has been recommended by the Executive Council, the President, the Faculty, and has been acted upon by the College's Board of Trustees.
WHEREAS, we honor Professor Joseph B. Ruth, Jr., long-time teacher, highly regarded by his contemporaries, loved by his students for his concerns about their progress and his constant availability for extra assistance; and
WHEREAS, we pay tribute to Professor Ruth for three decades of service, always available for additional duties including committees, college service, and commitments of time far beyond what could reasonably be expected, and
WHEREAS, we acknowledge that Professor Ruth has served as an inspiration to administrators, faculty, and students,
BE IT THEREFORE RESOLVED, that Professor Joseph B. Ruth, Jr. be appointed Professor Emeritus of Business and Management at Mount Wachusett Community College with all rights, privileges, and responsibilities attendant to his appointment.