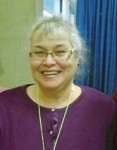 Margaret E. Lattrell, 1976 – 2012
Administrative Assistant I
Margaret Lattrell worked at Mount Wachusett Community College from December 1976 to February 2012. She began as a switchboard operator and was later hired to be secretary for the Division of Social Sciences. The division was restructured several times, with a variety of faculty and functions over the years. Her most recent position was administrative assistant for the Practical Nursing Program. Margaret loves a challenge and there were many opportunities to learn and grow and adapt to the many changes. What a great place to work! Thanks for the fond memories!