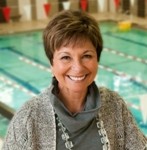 Nola Sapienza, 1978 – 2012
Professor
1989 – helped to develop core program and implemented required Fitness and Wellness program.
1999 – helped to develop new curriculum Liberal Arts and Sciences concentration Fitness Leadership and Exercise Science with an articulation to transfer to Fitchburg State College— Fitness Management Program.
1999 – 2011 served as Department Chairperson for the LAX program. Served and chaired college committees.
1978 – 1988 coached MWCC Volleyball and Softball Teams winning four state championships for softball.  Also, 2-time softball runner-up for Region XXI.  I also served on the NJCAA Region XXI volleyball and softball committees.
"Education for a changing world" was the slogan written by one of the committees that I was a part of a few years ago, and I think that is certainly MWCC-something for everyone. I have found that to be the exciting part of my job. Thank you to my colleagues and those students who have been in my classes for making this a job I loved. I always wanted to be a teacher and was fortunate to get to do this job!