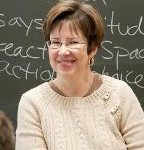 Paula Pitkiewicz, 1982 – present
Professor
I am a proud graduate of MWCC's Class of 1976. After earning my master's degree, I began working at my alma mater in 1982 in the Learning Center, a department dedicated to the needs of the non-traditional student. For thirty years I have been dedicated to working with academically challenged students to help them achieve their dreams. For several years I also taught the Mystery Fiction course for students in the Honors Program, and enjoy teaching Women's Literature.
Through the years I have been involved on MWCC's Outcomes, Academic Affairs and Constitution Committees. I particularly enjoyed my participation in the college's Beyond Nine to Five college re-entry program for women that helped many students to transfer to prestigious institutions. The success of my students and the friendship of my colleagues have made my time at MWCC rewarding.