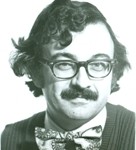 Peter J. Trinchero, 1971 – 2003
Positions Held:
Curriculum Development for Biology, A&P, Microbiology, Natural Resources Program
Co-creator/Director Natural Resources Program
Assistant Director of Continuing Education
taught General Biology, A&P, Microbiology, Zoology and other courses.
MEANING/COLLEGE SERVICE- Always about the students, joy/challenge to realize the infinite potential presented at the first meeting of a class.
Coauthored/directed participated in several grants that provided funds, personal time for the Biology Faculty to develop programs, teaching materials, and creative problem-solving experiences. Two examples: NSF Cause Grant that funded the construction of the Life Studies Center, greenhouse/2 adjacent labs/garden with 3 years of Biology Faculty development, and A&P Curriculum Development Grant that funded creation of clinical scenarios to develop A&P problem-solving skills.
International Education- Co created team taught Caribbean Studies Courses including fieldwork in Jamaica and Puerto Rico.