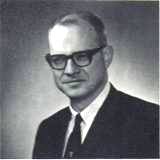 Philip A. Leasure, 1967 – 2005
Professor
Fiftieth anniversaries are special occasions for all concerned for they evoke memories of the people, places, events, and individual experiences that were part of those times and, of course, for the hopes and dreams that we have for the future. My small part in the first fifty years of the Mount began in the Fall of 1967 as an Instructor in Human Relations and ended in the Spring of 2005 as Professor Emeritus in Sociology. In between, I had the privilege of several thousand students attending my classes in Human Relations, Sociology, Social Problems, Gerontology, and Marriage and the Family. That privilege included faculty and committee meetings, graduations, special events, taking students on field trips to Puerto Rico, and sponsoring the MWCC Chess Club.
What stands out in my memory are the many fine people that I met along the way; administrators, faculty, community leaders, and especially the students who came to my classes full of expectancy and, in some cases, dread for they were coming into a "science" class. But, through it all, they and I persevered, and most walked across that graduation stage.
When I came to the Mount, we met in the former Gardner High School building, a venerable, but not very large building. I remember we had to walk through the library to get to our Social Science Division offices. When I retired the faculty had fine offices in our new campus on Green Street, though by 2005 when I left the College the campus was not so new. As the years went by we added many new curricula and courses and dropped some. The administration, faculty, and staff grew as did our student body. We went from one to four campuses. The "information/media age" came in earnest, and the Mount transformed to meet it.
Higher Education in America in the 21st Century has many challenges. The Mount has risen to meet those challenges in an ever changing world.