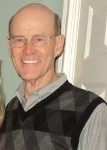 Ray Rogers, 1970 – 2003
Professor
During the time I was at The Mount, we went from being in a converted supermarket to the new campus. The challenging aspect of being a faculty member in the Computer Department was keeping up with the continuing changes.
I appreciate the opportunity of being a faculty member and a Division Chairperson. The best part was working with students of such varied backgrounds and helping them reach their goals.
Remembering those Days of Old: "It was the best of times, it was the worst of times, it was the age of wisdom, it was the age of foolishness."