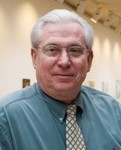 Dr. Richard A. Shine, Ph.D. 1976 – 2009
Dean, Humanities, Fine Arts, & Developmental Learning, English Professor
For thirty-three years, I deeply enjoyed teaching and advising students and working closely with MWCC faculty and staff from all departments at the college. Working productively with these many individuals on a daily basis made working at MWCC a wonderful, exceptional experience. It is through these many memories that my life at MWCC endures.
I am most proud of my leadership role in the development of the Honors Program, the Computer Graphic Design Program, and the Teaching & Learning Conference as well as my services on numerous statewide executive committees and governance boards including the Council of Academic Division Administrators, the Developmental Education Committee, and the 100% Math Initiative Institute. Lastly, my greatest personal satisfaction working at the college was derived from my mentoring and assisting numerous MWCC students transfer on full scholarship to a number of selective colleges.