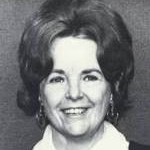 Ruth C. Dahir, 1964 – 1991
Secretary to Dr. Arthur Haley
Staff Assistant to Dr. Daniel Asquino
My career at MWCC began in a humble setting – in a one-room office in City Hall. It was here that President Arthur Haley and a staff of 5 employees began the work of building a college. Faculty and students were located in the Armory on East Broadway where classes were being conducted. This was not quite the vision that any of us had a college.
Soon, though, there were signs of growth and time to move to the "old" Elm Street School. Elm Street was not quite ready for us. However, we moved in. There were many days when we wore boots, coats and sometimes gloves, to keep warm. But we didn't mind, we were now a family and finally all together in one big building.
After a number of years at Elm Street the construction of our new building on Route 140 was complete and it was time to move in. We were anxious and you could feel the excitement. We were ready to settle in. What was once an idea and a dream was now a reality – a beautiful structure and campus – a College we were all proud to be a part of.
These are a few of my memories of MWCC and I treasure them!