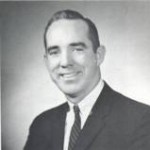 Samuel J. O'Neill, 1967 – 1996
Positions held:
Dean of Academic Affairs; Chairman, Division of Humanities;
Professor of Humanities/Computer Science; Ph.D.; CAPT, USNR (Ret.)
As a member of the MWCC Faculty/Administration from the early years of its history, I became well aware that the typical community college student should be afforded every opportunity to find success in accordance with her/his talents and means. These same principles were applicable during my thirty-seven years of active and reserve naval service. I paid close attention to organizational detail and always attempted to be thorough in carrying out my assigned tasks. I extended these classroom and administrative qualities to many lectures and conferences which I gave to local clubs and organizations. I am most grateful for having had the opportunity to participate in the education of students whose family backgrounds were very similar to my own.