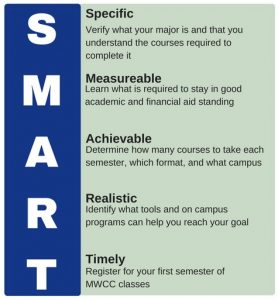 SMART Start is a group registration event where all students begin the enrollment process.
Note:  this event takes place in a computer lab, therefore extra guests are not permitted due to space restrictions.
What do I need to do ahead of time?
To be ready to attend SMART Start, all first-time MWCC students must:
Apply to the college and be offered admission
Take the Placement Tests or have prior college transcripts showing successful completion of English and mathematics.

Official transcripts from other schools should be sent to the Records Office as well as any official scores from AP or CLEP exams; please also bring unofficial copies of all transcripts/scores to SMART Start in case officials have not been processed

Submit the FAFSA (Free Application for Federal Student Aid)
What do I need to bring?
We will provide you with a folder of information and a pen so you can take notes. You should bring:
Transcripts from any and all previously attended colleges (official or unofficial)
Placement test scores (if you have a hard copy of the scores)
What should I expect when I arrive?
Check in with an academic advisor to review your student advising worksheet that outlines your suggested course registration
Attend an informational workshop where you will:

Engage with your peers and the advisors as you learn more about becoming a student at MWCC
Learn how your progress will be measured each semester
Evaluate your available time to commit to your academics
Use the electronic tools available to you – learn how to register for courses

Create your schedule for the upcoming semester
Expect for it to take roughly 2 hours from start to finish. Please plan on attending the entire event in order to enroll in classes.
What if I attend another college but want to take a class at MWCC?
If you are a student with prior successful college experience AND you are not seeking to obtain a degree from MWCC, you are considered a Guest Student. Please see our Guest Student Page for more information about course registration. Guest students DO NOT attend SMART Start.
Where can I get more information?
Prior to SMART Start contact the Admissions Office at 978-630-9110 or Academic Advising at 978-630-9109.