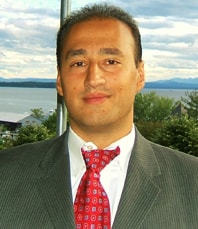 Salvatore L. Perla, Vice President of Clinical and Support Services at Milford Regional Medical Center, has been named Mount Wachusett Community College's 2009 Alumnus of the Year. The Leominster resident, who graduated from MWCC in 1992 with an associate's degree in medical laboratory technology and went on to establish a successful career in the field of health care, was honored during the college's 44th Commencement on May 20, 2009.
"We are extremely proud to honor Salvatore Perla as our 2009 Alumnus of the Year," said MWCC President Daniel M. Asquino. "Like many of our students, Sal discovered his vocation while attending Mount Wachusett Community College, and then followed that path to achieve tremendous success both academically and professionally."
MWCC established the award in 1989 to recognize the accomplishments of its graduates.
When Perla began his studies at MWCC, he said he was uncertain of a career path but open to exploring the many options available. While completing core requirement courses, he enrolled in a microbiology course and discovered his calling. He decided to major in medical laboratory technology, which is now the clinical laboratory science program, a two-year degree program that prepares students for a key role in patient care by performing a range of procedures used in the detection, diagnosis, and treatment of disease.
Attending classes at day and working as a manager at a McDonald's restaurant at night, he graduated from MWCC with what he terms an "instant career." The associate's degree enabled him to work days as a medical technologist and senior medical technologist at UMass Medical Center in Worcester and the former Worcester City Hospital while pursuing a bachelor's degree at night at Northeastern University.
After earning his B.S. in health science at Northeastern, Perla then went on to earn a master's degree in Health Care Administration at Framingham State College. He also holds certifications from the American Society of Clinical Pathologists and the National Credentialing Agency for Laboratory Professionals.
"I wasn't a scholar in high school. Mount Wachusett really created the building block for me to change my view on academics," Perla said. "The attention, the compassion and the motivation that the professors give you is present. They want you to succeed. I learned so much – responsibility, accountability – while also learning this great new career. My associate's degree gave me my financial freedom today. It really set the tone of what I wanted in life."
As vice president of clinical and support services at Milford Regional, a 150-bed acute care community hospital, Perla oversees several departments, including the laboratory and blood bank, respiratory medicine, physical therapy, food and nutrition, inpatient and outpatient EEG/EMG, housekeeping, security, plant maintenance and business development. Among numerous achievements there, he served as project manager for the construction and implementation of a $30 million integrated cancer center collaborative between the community hospital, Brigham and Women's Hospital and the Dana-Farber Cancer Institute; created a new sports medicine rehabilitation complex; and implemented laboratory automation, introducing robotics to streamline the process to provide scientist with more time for patient care and laboratory testing.
Perla grew up in Leominster and attended Leominster public schools. He lives in Leominster with his wife Kelley, and their two children, and volunteers as a basketball coach for the city's recreation department.