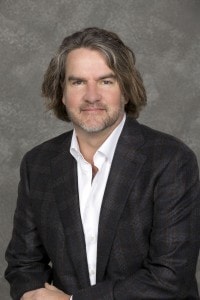 Hollywood executive Kevin Berg, a Gardner native in charge of bringing award-winning CBS television programs to audiences across the U.S. and around the world, will return to where his career began to deliver the keynote address at Mount Wachusett Community College's 50th Commencement in May. In addition, Berg will be presented with an honorary doctorate of Humanities and the 2015 Alumnus of the Year Award.
As executive vice president of production for CBS Network Entertainment Group, Berg is responsible for production on all CBS properties with the exception of news and sports. He has been intimately involved with the launch and continuing success of the hit CSI and NCIS franchises; Blue Bloods; Criminal Minds; Elementary; Extant; The Good Wife; Hawaii Five-O; Madam Secretary; Scorpion; The Amazing Race; Survivor; The Odd Couple; Under the Dome; Beauty and the Beast; America's Next Top Model; Undercover Boss; Late Show, The Late, Late Show, several game shows and countless others.
At CBS, he is fiscally responsible for all production costs and schedules and oversees spending in excess of $1.5 billion annually. He is also responsible for worldwide production, including productions located in the United States, Canada, Malta, Israel, South Africa and Jordan.
"We are delighted to welcome Kevin Berg back to Mount Wachusett Community College as this year's Commencement speaker and Alumnus of the Year," said MWCC President Daniel M. Asquino. "Our students have gone on to build successful careers in a wide range of fields, but it's rare to have one whose work has an impact on our lives every day of the week."
Berg got his start in broadcasting as a communications student at MWCC from fall 1982 to spring 1984. After graduating from Gardner High School and following a short stint at a furniture factory, Berg decided to enroll at MWCC, but had no idea which career to pursue. While touring the college one day, he ran into a family friend – MWCC's influential administrator Frank Hirons – who encouraged him to take up television production in the college's new, state-of-the-art video production studios.
"The Mount had phenomenal facilities and had phenomenal technology available to me, so I had a jump on the technology side," Berg said in a recent telephone interview.
The skills he gained at MWCC helped him land an internship at WNEV TV Channel 7 in Boston, (now WHDH), which ordinarily went to graduates of four-year schools. When the production manager abruptly quit, Berg was hired for the job and worked on a short-lived, live, daily show called New England Afternoon, hosted by Bill O'Reilly. After the show ended, Berg packed up and moved to Los Angeles in 1984 and started knocking on doors, résumé in hand, to find a job in television.
On the fourth day, he walked into award-winning director Marty Pasetta's company, and was subsequently hired as a production coordinator. Over the next five years, he was successively promoted while working with Pasetta on the Academy Awards, the Emmys, Disney specials and an assortment of variety shows featuring A-list talent.
He shifted gears to series television in 1989 and produced multiple award-winning series such as "In Living Color," "Tracy Takes On…" and "The News Hole," prior to joining Nancy Tellem, then-president of CBS, in the summer of 1998. 
"I rose up the ranks pretty quickly," Berg said. "It is drive, determination and desire – the three D's. I've worked with so many phenomenal people."
Berg also was involved in the transition from standard definition production/programming to high definition production/programming for both the CBS network and studio. Additionally, he played a key role in the merger of CBS and Paramount in 2004 and the split of the companies in 2006.
He is actively involved with multiple charities that protect and invest in the lives of children, and with establishing and producing neighborhood and community activities and events. He served a four-year term on the Board of Directors for the Entertainment Industries Foundation, the lead philanthropic nonprofit in the entertainment industry, helping it grow from an annual $10 million charitable fund to $100 million. He currently serves on the Directors Guild of America's Directors Guild – Producer Training Plan board, which places and trains aspiring assistant directors on existing feature and television productions.
"We are very fortunate that Kevin kept in touch over the years, so we were able to follow his success in Hollywood," said his former broadcasting and communications professor, Dr. Vincent Ialenti, now Dean of Academic and Institutional Technology and Interim Dean of the School of Liberal Arts, Education, Humanities and Communications. The academic program has since evolved into the Media Arts and Technology program, offering concentrations in video/film, audio engineering and photography.
Berg, whose family co-owned the former Columbus & Berg construction company in Gardner, met his wife, Donna, while working on "In Living Color." The couple has two sons and two daughters.
"MWCC will always hold a special place in my heart," Berg said.