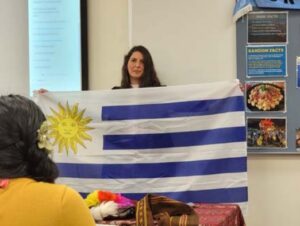 Students of the Dual Language Business Administration Certificate program celebrated National Hispanic Heritage Month with a Homeland Show and Tell event at the  Leominster Campus in October.
Students showcased their homeland using garments, dance, art, displays and presentations on food and culture. Homelands included Costa Rica, Mexico, Puerto Rico, Dominican Republic, Peru and Uruguay. Melissa Sargent, Dean of Academic Affairs, said, "It is an opportunity for them to use their English skills to present about their home country to the rest of the group."
Sargent elaborated, "Even though they are all Spanish speakers they are all from different areas and there are differences within those cultures and so this was a way for them to get to know each other a little better and it was a way for them to kind of brag about their home countries."
Otto Bolaños-Vargas, ESOL Division Chair, added, "There are other situations in which Hispanic students honor their culture as well and that is by motivating their kids to speak the language at home. They continue to watch programs from their country of origin that promotes the practice of language, understanding of the language and the culture as well."
Bolaños-Vargas pointed out that the Spanish language is part of the students' identity. Sargent said, "The more you get away from your native language, the more disconnected you get from your culture."
Students enrolled in the program primarily speak Spanish. The program is structured to teach content classes, such as marketing and management courses, in Spanish while simultaneously learning the same material in English. Bolaños-Vargas said, "It enables them to actually cover more in their areas of study."
Sargent noted, "The whole purpose of this program is for them to celebrate being bilingual and to use their bilingualism as an asset as they go into the workplace. Being bilingual has been treated so poorly in the past, and it's about time we realize it is an asset to be bilingual in the United States."
Sargent and Bolaños-Vargas agreed they benefited from the experience as well. BolañosVargas said, "They all learned a little vocabulary." He was impressed to learn words he didn't know about in Spanish.
This is the first year the event was held. Most students made appearances in person while others attend remotely. "We're just celebrating language, and this was an opportunity to celebrate their homeland as well," Sargent said.
National Hispanic Heritage Month is celebrated between September 15 – October 15