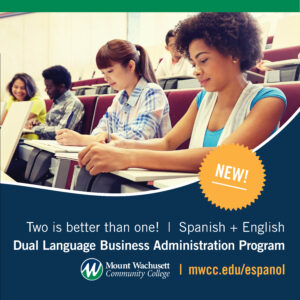 MWCC is excited to announce our new Dual Language Business Administration certificate program!
This bilingual program offers Spanish-speaking students the ability to take college courses in Spanish while still taking ESL courses.  The contextualized ESL courses will focus on the content students are learning in their certificate courses. Only students who are proficient in Spanish are eligible for the program.
This is a great opportunity for Spanish-speaking students to pursue a certificate at the same time that they gain greater proficiency in English. Upon completion, students are ready to enter into a program to complete an associate degree in Business or enter the workforce as bilingual employees with a background in business.
The Dual Language Business Administration certificate program will be taught using the Mount's new hyflex model, which streams classes live, allowing students both in-person and online benefits. Students choosing to attend in-person will be able to do so conveniently at our Leominster Campus, located on Erdman Way.
This July, we will be offering two FREE courses to prepare students for the fall program.
Foundations of Mathematics (MAT092) will be offered in Spanish and will prepare students for the Topics in Mathematics course (MAT126) that is required in the certificate. Students in this course will also participate in a one-hour ESL course to help them learn math terminology in English.
Classes will be Tue/Thu from July 13 – Aug 19 from 5:15-8:15 PM at the Leominster Campus (5:15-6:15PM ESL/6:15-8:15PM MAT092)
Spanish for Bilingual Speakers (SPA120) is an intermediate-level course designed for students who have a conversational knowledge of Spanish, but little or no formal preparation in the language.
Courses will meet on Mon/Wed from July 12 – Aug 16 from 5:14-7:55 PM.
For more information, please contact Admissions at (978)630-9447 or by email at admissions@mwcc.edu.