The Gilman & Gilman McCain scholarships are now available at MWCC.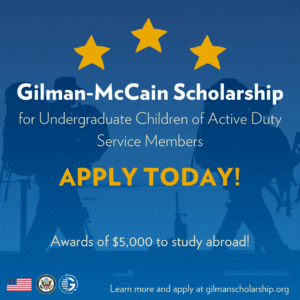 The Gilman Scholarship provides up to $5,000 (or $8,000 if you're studying a critical need language) to Undergraduate students to go abroad on an in-person or virtual program who are United States citizens and are also recipients of the Federal Pell Grant.
The Gilman-McCain Scholarship provides $5,000 to students that are child dependents of an active duty military member. They must also receive any type of Title IV Federal Financial Aid to go abroad.
The Scholarships encompass programs during these terms:
Summer 2021
Fall 2021
Academic Year 2021-2022
Spring 2022
The Student Deadline for the scholarships is on Tuesday, March 2nd, 2021 at 11:50 pm Pacific Time.
To learn more about the scholarships, visit The Gilman Scholarship Advisor Announcement page.