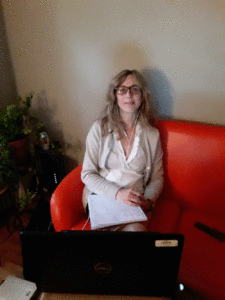 Merhaba! (Hello!) Virtual Turkish Language class was intense last night! There are students participating in class from all over the world; Kazakhstan, Peru, Morocco, Brazil, France, Pakistan, and all over the USA. We are using ZOOM for the class, and in spite of some early tech issues, it went really well once we got started.
This is an immersion class, which means the teacher only speaks Turkish  (you read that right, only Turkish!) It is really hard to understand her, but she is going slow and giving us hints as to what she means. She says a phrase, then prompts each of us to repeat the phrase. There was a lot of laughing at our mistakes last night, but we eventually got into a rhythm that worked. There are many ways to learn a language, an immersion program being one of them. Just like any class, it takes some getting used to and helps us to develop our flexibility and adaptability in educational & social situations. We are also learning a lot about how people communicate since there are so many cultures represented. I like that aspect.
Our class has a WHATSAPP chat, and the teacher sends us YouTube videos to help us learn. I woke up to my teacher wishing me a good morning from Istanbul! At this stage, some people are only complaining in English, and some are forging ahead and trying to practice the little bit of Turkish we learned. So, pretty much the same as any other class. I have been practicing Turkish with a student from Lima, Peru.
I am so excited and fortunate to be able to participate in this class, and I hope you will try and find a virtual course that interests you and exposes you to the global community. It has come to my attention that the Gilman, Gilman-McCain, and Critical Language Scholarships can be used to pay for virtual classes! Please let us know if you would like more information on virtual study abroad classes or federal scholarships to help pay for them.