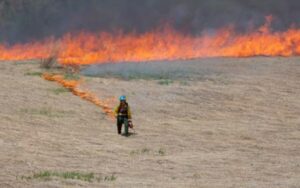 MWCC has added a new Forest Fire Control course thanks to new full-time faculty member George LoCasio. Professor LoCasio professed that the Forest Fire Control course simulates his life as a firefighter. Students enrolled in the course will learn about S13190 certification, prescribed fires, and wildland fires, similar to the wildland fires in  California and other western states.
LoCasio was a firefighter in Flagstaff, Arizona from 2007 to 2011. He worked on a Type 1 hand crew, also known as "hot shots". LoCasio's job was to "lead the dig" where he "led half the crew in digging and moving burnable material away from the fire." Students will be performing the same tasks on field days, said LoCasio.
LoCasio explained the first half of the course is focused on S13190 classes such as basic fire behavior and weather, as well as the Incident Command System (ICM). The second half of the semester will focus on wildland fire ecology and how to use prescribed fire as a management tool.
Students will also be engaged in the physical and mental demands of firefighting during lab and field days. LoCasio said the best way firefighters stay in shape is by doing the job. He advised students "to tone their bodies to their own weight" by doing push-ups, sit-ups, jumping jacks, etc. He also recommended long walks on uneven terrain carrying a weighted backpack.
LoCasio explained the west and east wildland fires each have their own distinct vegetation and burn differently. He added that each vegetation and ecosystem have a "naturally occurring fire return interval." He explained, the ponderosa pines in Northern Arizona naturally burn every 3 years whereas the pitch pines in the east burn every 30 to 80. He added the leading causes of fires are lightning strikes and volcano eruptions, in addition to human carelessness.
However, fire is not always a bad thing as LoCasio pointed out, "Fires are natural occurring events that are ecologically good for the environment. We want to live with fire, reframe how we think about fire and smoke."
LoCasio no longer suppresses fires but now actively sets prescribed fires with MassWildlife. Students will experience this firsthand on field days. He named various ways why prescribed fires are an ecological benefit such as inducing some plants to flower, assisting in seed germination and helping maintain whole habitats. Prescribed fires reduce vegetation that fuels fires and produce less smoke than a wildland fire.
MWCC is the only college that offers this course east of the state of Mississippi. LoCasio gives credit to UMass Amherst professor Dr. Bill Patterson for bringing prescribed fires to New England, LoCasio served as teacher's assistant and later co-instructor of the course with Patterson.
LoCasio encourages "everyone who wants to take that class to take it. It's an exciting topic and I want students to be excited about it and learn about it."
Forest Fire Control is being offered this spring semester! Register today before it fills up!
This article originally appeared in The Mount Observer, December 2021.