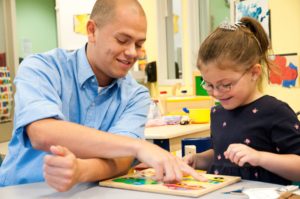 Our Early Childhood and Elementary Education Department is thrilled to announce the launch of a new degree program for Fall 2020. The Early Childhood & Care for Exceptional Learners (ECEC) Associate Degree program aims to address the regional need for educators that are trained to work with children with specialized needs.
The ECEC program takes the traditional Early Childhood Educator program and adds a layer of focused instruction including courses addressing Autism Spectrum Disorders and Children with Special Needs.
"We are excited about this new program offering," stated Rosanne Morel, Ed. D., Chairperson of the Early Childhood and Elementary Education department. "This program may be more attractive to potential students, the need for paraprofessionals and behavior technicians is increasing and these skills will benefit them greatly in the classroom."
Interested students can review Early Childhood Education program requirements, and submit their application for the Fall Semester today. Visit our application page to complete the application online or download a copy.