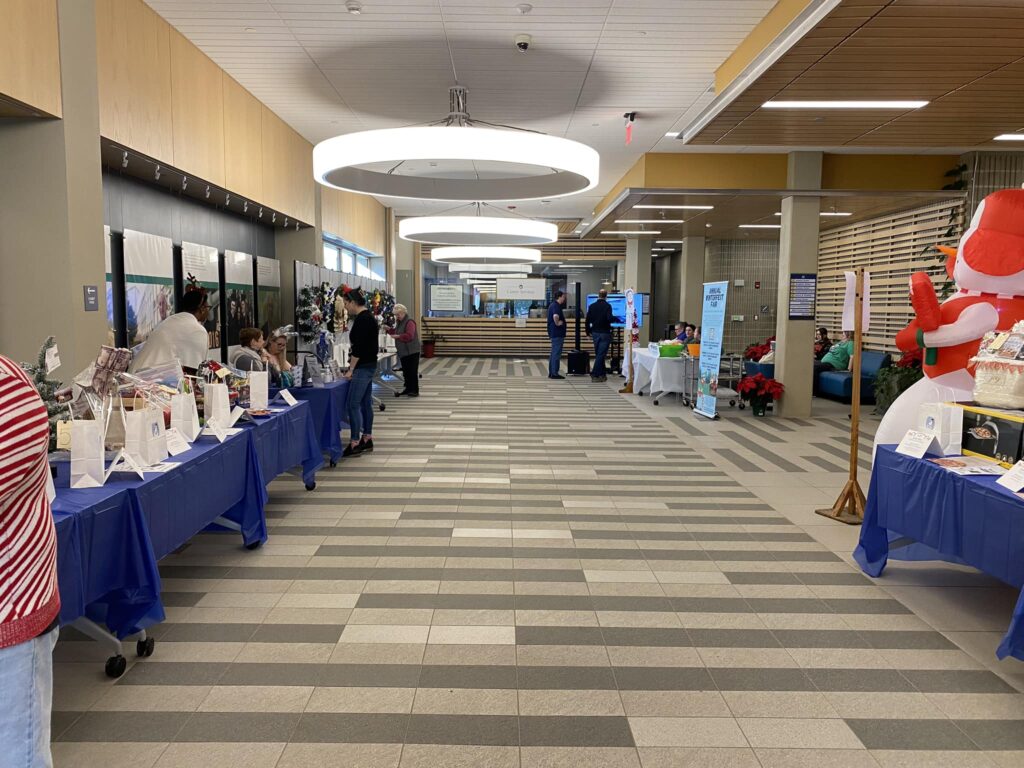 Thank you to everyone who volunteered, visited, and contributed to this year's Winterfest Fundraiser and Fair. As many of you know, this is our largest fundraiser for the MWCC Emergency Student Loan Fund. This fund is integral in helping students overcome small, but immediate financial obstacles like buying a textbook, putting gas in their car, fixing a flat tire, filling a prescription, covering a co-pay, buying a suit for a job interview, etc. These available funds make a TRANSFORMATIVE difference in the lives of our students.
The generosity of our community is unbelievable.
• Thank you to all the departments/offices/areas/student clubs that donated our amazing 20 baskets and 12 beautiful wreaths.
• Thank you to our AMAZING student volunteers and our student clubs and organizations (CATS, Green Society, and the Parent Support Group – PSG) for their incredible commitment and support of this event.
• Thank you to our employee volunteers. We could not do an event of this size and magnitude without you!
• Thank you to our maintainers for their amazing assistance in making our spaces beautiful and helping us set-up and breakdown. And, Media Services for helping set the tone with some holiday music.
• Thank you to everyone who dug deep into their pockets, wallets, and couch cushions to buy tickets, swag, baked goods, etc. All of that money directly supports our students!
• And, an individualized thank you to Kathy Matson, Sarah Savoie, and Kayla Coates for pulling this event together for the community.
As a result of these collective, extraordinary efforts, we had our single best fundraising year EVER. In total, we raised just over $6,000 for the Emergency Student Loan fund – in just three days! This is amazing and bests our previous fundraising record by over $1,000.
Still want to help?!?!? We still have some "Marty, the Mountain Lion" stuffed animals left. They are $20 each and ALL proceeds go to the Emergency Student Loan Fund. Contact Kathy Matson at kmatson1@mwcc.mass.edu to reserve your MARTY today! You can also donate directly to the MWCC Foundation via Paypal.
None of this is possible without all of you. Thank you!
On behalf of everyone in Student Services, I want to wish you all a happy, healthy, and joyful holiday season.