I first heard about Growing Places when I was working with students at Samoset Middle School. A Youth Venture team of sixth grade girls were interested in helping out their community by growing and then distributing healthy food from their own garden at Samoset. My co-worker Rachel suggested that they partner with Growing Places. I suggested it to the girls and they liked the idea.
The girls contacted Growing Places and met with Samantha Dokus, Youth Education Coordinator, on a couple of occasions during their workshop. I am sorry to say that those girls never stuck with that idea for their Youth Venture – but that is a great example of Youth Venture being "youth led and youth created". Their passions and interests led them to another cause.
Three Youth Venture staff members and I had the opportunity to visit Growing Places recently. The purpose of our visit was to gain a better understanding of our area's food insecurity, Growing Place's mission in North Central, MA, and how future Youth Venture teams can best partner with them.
Growing Places is a small non-profit located in Leominster that works to address issues of food insecurity and poor nutrition in North Central, MA. They work through a food justice lens, focusing their efforts in communities at increased risk and in need of opportunities that promote nutrition and wellbeing. Growing places focuses on increasing equitable food access and environmental sustainability through programs that include garden and nutrition education and food access.
During our staff visit to Growing Places, Janet Edwards, the director of Program Operations, had us participate in an exercise about food insecurity. We all picked a card. My card indicated that I was a divorced female in my 50ies that worked full time, had diabetes and lived in Winchendon. Janet would then direct us to take a step forward or backward if we met certain criteria. At the end of her statements, I stood there, looking at the backs of my co-workers. I was the furthest one back from the group!
The point of this exercise was to show the factors that affect food insecurity. Being a divorced, older female, adult with a chronic disease, I had the most criteria for food insecurity.  Studies in communities show a high rate of chronic diseases are brought on by poor nutrition that include diabetes, heart disease, certain types of cancer and obesity. The Gardner-Winchendon area (where I hypothetically live) is particularly high in these types of chronic diseases. In fact, we learned that the town of Winchendon is a food desert – meaning it is an area that lacks access to whole, healthy food due to statistics indicating low income, unemployment, SNAP (food stamp recipients) and children that receive free and reduced lunch.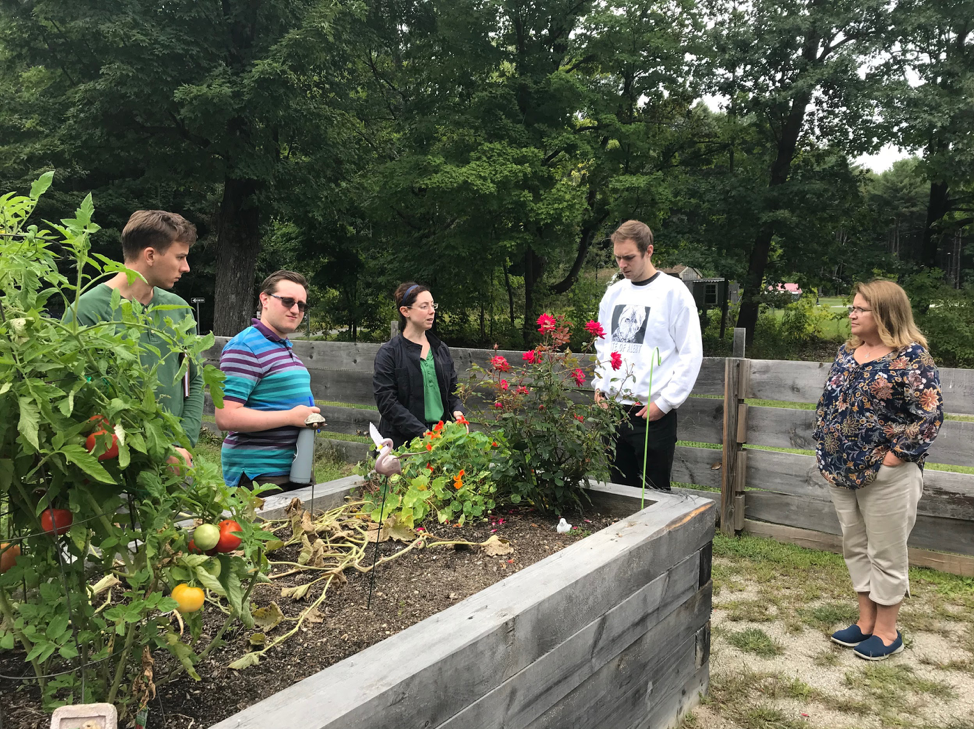 We toured one of the five Growing Places Community Gardens called the Pierce Meadow Garden in the Leominster location. Anyone living in North Central, MA may fill out an application and if Growing Places approves, folks are allowed to use the space to grow their own gardens.  All applicants are reviewed on a case-by-case basis with priority given to income-qualified households in Leominster, Fitchburg and Clinton. Not only does Growing Places provide the space to garden, residents receive beginner gardening lessons, quality, inexpensive plant material, garden to table recipes and access to a community of local gardeners.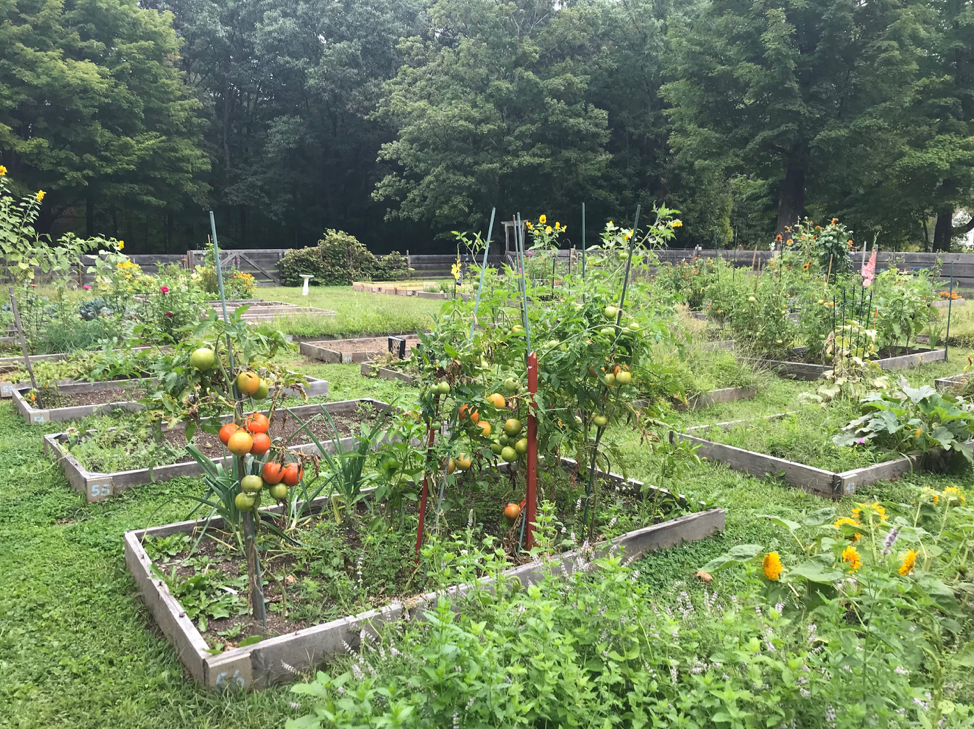 This was the first year that we had a garden at my home. I grew zucchini, cucumbers, summer squash, sweet potatoes, peppers and tomatoes. Here it was the beginning of September and my garden was already on its way out. So, I could appreciate the tomato plants full of ripe juicy tomatoes, the huge green peppers and the rows of kale – just to name a few. These gardens were thriving – we were all very impressed.
Next week, I will post part 2 of our visit to Growing Places, so stay tuned for that!