Teams Launched to Date:
2018 – 2019
Changemaker Champions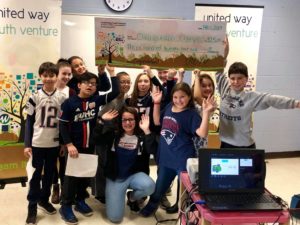 The Youth Venture Leadership Team of 4th and 5th graders at Fall Brook Elementary School is focused on helping stray animals in Leominster by donating resources to the Leominster/Fitchburg Animal Control Officer. Through their research, the Changemaker Champions learned that the Leominster Animal Control Officer works alone and is in need of supplies. They are designing and selling their own custom buttons, and presenting him with a check so that he can purchase the items that he needs.