Annual Exhibition of Student Work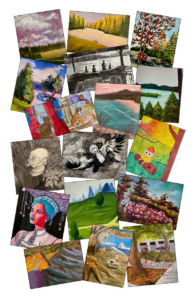 In recognition of the success and accomplishments of the art students enrolled in the advanced art courses, this exhibit features student work from Painting II & III and the Drawing III course with Professor Jesse Connor.
The art students, at this level, begin to use course assignments as a catalyst to develop their voice and vision in their work as they skillfully manipulate their medium, respond to their chosen subject or actualize their concept to create outstanding work for their portfolio.
For many of these students, this will be their last year in the art program at Mount Wachusett Community College. Some will be graduating in the spring of 2023 and several completed their degree in December 2022. This group exhibition is an opportunity to formally acknowledge and celebrate their success.
Students were: Richard H Barrell, Hanalise Bennett, Megan Boivin, Richard Chang, Sydney Comire, Molly C. Donovan, Luke M. Fontaine, Nikki M. Hazel, Anna Clara Loureiro Lago, Mazie Love, Madolyn Niles-Carlson, Kara O'Neil, Mel Pagan, Gabriela M. Rodas, Molly Sullivan, Noah B. Uphold, Harleigh J. West.
Taylor Seldin-French
Selected Works: 2021 – 2023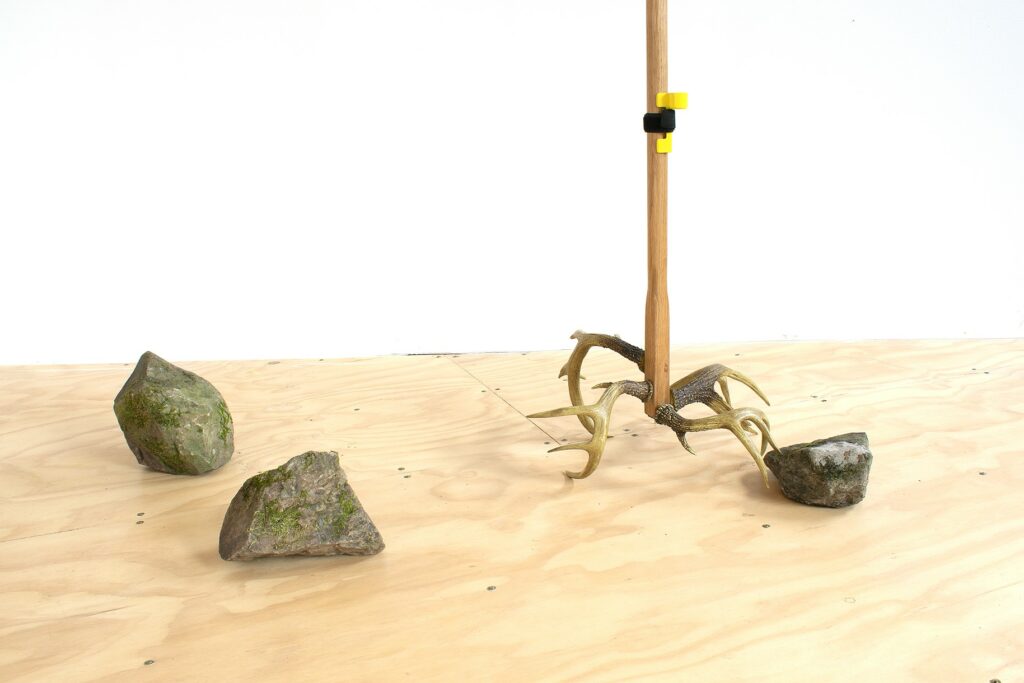 "My work approaches what it means to be a 'nature-lover' in the 21st century. Through material, object, and image based propositions, I am searching for the confluence of two phenomena: our explicit ecological actuality, and our perceptual schemas of 'nature.' Our human conceptions of what, where, how, why, and when nature is — and is not — supplies the contextual labyrinth in which I make my work. What are these exceptional mires of conditional nature-love in which the natural can be found here but not there? How did we manage to cultivate an ethos in which to love is also to destroy?"            —Taylor Seldin-French, January 2023
Taylor Seldin-French is an MWCC art alumnus. He received his B.F.A. degree from Maine College of Art and was awarded an M.F.A. degree from the University of Massachusetts at Amherst. He currently teaches Sculpture, Three-dimensional Design, and foundation art courses for MWCC's Art Department and is an adjunct art faculty at Westfield State University. He also instructed numerous art courses at UMASS-Amherst while a graduate student and a post-graduate. He lives in western Massachusetts and has a studio in Leverett to produce sculpture, paintings, and custom-built furniture.
We're All In This Together
Julia Morgan
I am fascinated by the myriad paths and crossings through which living beings move. Whether we meander (or ricochet) through space and time, we create currents and layers of experience that affect not only humans (ripple-effect wise), but, of course, the many species who share this planet.
In these paintings about movement and gesture of forms, I visualize the moment not as 'captured' but as a sliver of a trajectory of motion that I am shining a quiet light on for just an instant. The most recent paintings are created from an initial slashing abstraction of wet-on-wet brush strokes, with gulls and orioles arising from within the swirl ¬¬¬-of strokes in a second layer. For me, the random washes represent an environment in peril and, like the proverbial canary in the coal mine, the cries of the birds may very well become our cries.
Lately through painting, I've become more aware and grateful for this creative process that conjures for me a free space, a 'pass go' series of moments where I can lose myself in the process of making. The very act of making is a sustaining, healing, and mostly joyful endeavor.
Instagram: juliaemorgan
Facebook: Julia E Morgan
Petraccia / Connor Recent Works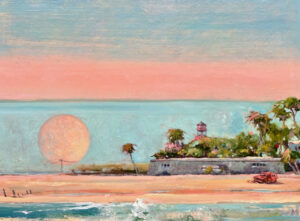 Jesse Connor when speaking about his work said that his "paintings develop in conversation with the miraculous and quotidian moments of his daily life, in which every experience—talking with family, running errands, noticing animals or architecture—evoke joy, humor, and mystery. Visions of paintings may emerge from interactions between shadow, light, and color, configurations of clouds, and other phenomena that catalyze the liminality in time, place, and memory within which my paintings live.
A dedicated mentor to artists developing their craft, Connor has taught at a number of colleges in the Northeast, including the University of Massachusetts Amherst, Springfield Technical Community College, and Bennington College. Currently, he is an Assistant Professor of Art at Mount Wachusett Community College, as well as co-owner and founder of Boat Yard Art Space in Leverett, MA, where he paints and curates small exhibitions featuring emerging artists. He holds a B.F.A. from the University of Massachusetts, Amherst and an M.F.A. from the University of Michigan.
Follow on Instagram: jc_arts_design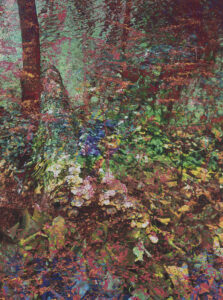 Mikaël Petraccia stated about this recent work, "Most of the work presented is drawn from my everyday movement. Going from home to work and back home…. on my daily walks and hikes. Every work becomes a record of a specific space in a specific time. Even though I capture very specific moments using a camera of some sort, including my smartphone, I am interested in what those moments, extracted from their environment (time & space), could become. Many of those pictures are made from layering many images captured from the same space and time. Some are made with just a few pictures while others are made until the space becomes so saturated that it becomes very dark where details are seen only up close. I often navigate between very recognizable spaces and abstract ones, between bright and dark. Probably influenced by how we go through our days. Starting with clear ideas and finishing with an oversaturation of information moving into a new representation through our dreams. Most of my dreams do not make sense but they are composed of moments often too real. All of those presented works are made digitally, then printed with a large format inkjet printer. Most of those images are made by printing over and over, sometimes with different images some with the same image separated in layers of colors emphasizing certain details, shapes of texture.
Mikaël Petraccia received his National Diploma in Fine Art and B.F.A. degree from the Ecole Nationale Supérieur des Beaux Arts, Le Mans, France; with a concentration in new media and 2D studies. In 2002, he received his M.F.A. degree from UMASS at Amherst. He is a Master Printer that has worked with Atelier Woolworth in Paris, New School University-Parsons in NYC, Axelle Fine Arts Edition Brooklyn, NY; and Concordia University, Montreal
Follow on Instagram: mikaelpetraccia