Children's Group Swim Lessons
Due to the constraint of remaining 6 feet away from our swim lesson participants, we will continue to be able to offer Parent/Child (Seahorse 1) and Parent/Tot (Seahorse 2) classes in our winter session. This session will start on January 9th and run for 8 weeks. Registration will be December 28 through January 6th, check this website for further registration information.
NOTE: Those who paid for Spring 2020 Swim Lessons have two options:
Keep the money paid on account with Mount Fitness until your child is able to participate in swim lessons safely
Request a refund by emailing jrenwick@mwcc.mass.edu with your child's name, your name, and your mailing address.
Questions? Please feel free to give us a call at 978-630-9354 or email Aquatics Director Jacque Renwick at jrenwick@mwcc.mass.edu.
Seahorse Winter Swim Lessons 2021
These baby/toddler swim lessons are appropriate for children ages 6 to 36 months. There will be no exceptions, only up to 36 months old.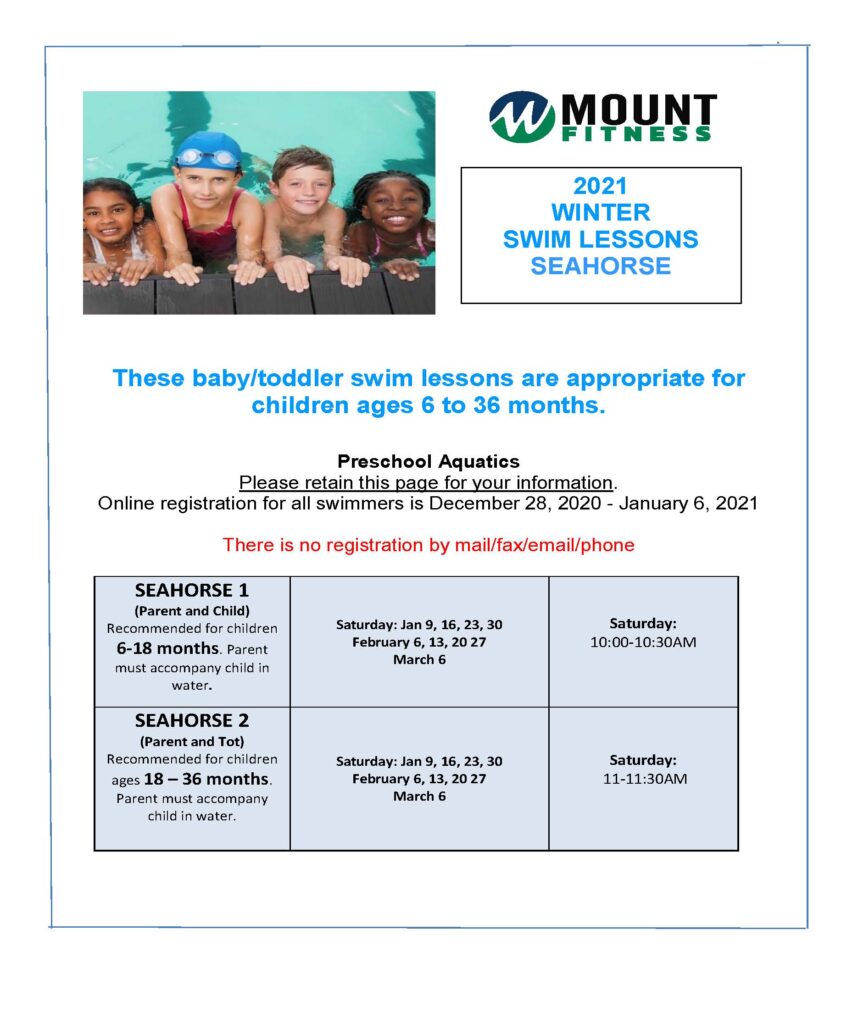 Download 2021 Winter Seahorse 1 2 PDF
What Swimming Level is my child?
Swimming levels range from our parent and child classes for infants as young as 6 months old, to group lessons for students ages 6 and up. Click here to learn more about the swimming age levels.
So you are starting swim lessons!
Here are a few things that will help you get started with swim lessons at Mount Fitness.
Swimwear
All swimmers who are not toilet trained are required to wear swim diapers plus a covering bathing suit. NO REGULAR DIAPERS ARE ALLOWED IN THE POOL AT ANY TIME. Bathing suits are required. Wetsuits, swim shirts (no cotton) or rash guards are encouraged because the water is colder than your child's body temperature. Don't forget dry clothes to change into after lessons.
Towels
You bring your own towels to the pool. We suggest that you bring two, one to put over the child while on the deck before and after lessons, and a second for after showering.
Class Times
Please be early for your lesson! This will ensure that your child is getting the full attention of the instructor as well as participating fully in all skills for the day. We recommend arriving at least 5-10 minutes early in order to make sure your child has used the restroom, is changed, showered and ready to begin class at the designated time.
Schedule
Please see the schedule posted on our website if you have questions about dates for class. We highly suggested printing it out and keep it with swim gear.
Swim Gear
We have goggles, floaties, kickboards and fins. There is no need to bring other swim gear, everything is provided for your child. If they have goggles, please make sure they are of good quality, bad goggles are worse than no goggles at all!
Parents/Grandparents/Guardians
Adults must remain on the deck when your child is in swim lessons. There is no dropping them off and picking up later, and no going elsewhere in the building. Please only approach the class at the request of the instructor.
No Show/Credit Policy
No Credits will be issued for circumstances that are beyond the control of Mount Fitness Aquatics. Missed classes due to:– Child's illness, vacation or if you should choose not to attend.
Inclement weather
Power outages
No water supply
Mechanical issues
Most instructors will attempt to make up any missed classes when it is due to weather or pool issues, but there is no guarantee as one session usually flows right into the next with 1 week at most in between.