SilverSneakers®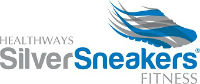 The SilverSneakers Fitness Program is a fitness program designed to improve and maintain the physical and mental health of Medicare-eligible members of the Fallon Community Health Plan.
It reflects senior sensitivity, promotes social interaction, and encourages participation in healthy lifestyle activities.
These eligible members receive a free basic membership to our facility as a participating SilverSneakers contracted network. Membership privileges include all amenities, programs, and services that are associated with our basic membership.
We also offer the SilverSneakers fitness classes in addition to our other classes. They are focused on strength, flexibility, and coordination for this specific age group of members.
SilverSneakers Classic hosted Wednesdays and Fridays from 10:45–11:30AM
Move through a variety of exercises designed to increase muscular strength, range of movement and skills required during Activities for Daily Living (ADLs). Hand-held weights, elastic tubing with handles and a ball are offered for resistance. A chair is used for seated and/or standing support.
SilverSneakers Cardio hosted Mondays from 10:45–11:30AM
Enjoy a heart-healthy, non-impact aerobic class designed to give you a safe & fun workout using basic rhythmic movement for the upper & lower body. A chair is provided for support, stretching, and relaxation and resistance tools are offered for muscular strength work.
For more information about the SilverSneakers Fitness Program call Mount Fitness at 978-630-9212 or check your eligibility here.