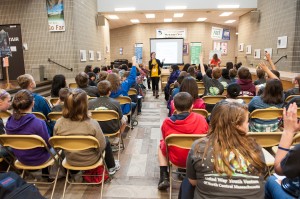 It may have been raining heavily in Gardner on Friday, Oct. 19, but inside Mount Wachusett Community College it was bright and sunny with the sights and sounds of hundreds of local middle and high school students.
More than 530 students from area schools traveled to MWCC for the United Way Youth Venture of North Central Massachusetts Fall Kick Off. The United Way Youth Venture of North Central Massachusetts, a 3-way partnership between the United Way, MWCC, and Ashoka's Youth Venture, encourages young people to initiate positive, lasting social change in their communities.
Of all of the Youth Venture partnerships nationally, UWYV of North Central Massachusetts has the largest contingent of engaged students and teams. Since 2002, 165 teams have launched ventures, with 136 remaining active. In the past year, 40 teams have been launched across all partnering schools, which represents a 20% increase from last year. More than 2,500 students are actively engaged in the program and more than 8,000 students are exposed to it annually.
The Fall Kick Off is a yearly event which generates motivation and enthusiasm for the program, encouraging and educating students through breakout sessions, acclaimed keynote speakers, and peer-presentations by successful Venturers of the region.
The tone of the day was set when speaker Dr. Calvin Hill, director of diversity at Worcester State University, plucked a student from the audience and requested some "tunes to break-it-down" and began to dance on stage to the delight of the students. From this fun, lighthearted beginning, the day gathered energy and infused students and adults alike with the serious notion that being a positive change-maker is an attainable and important goal.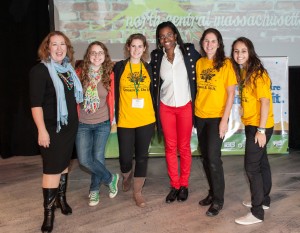 The second keynote speaker, Syreeta Gates, a 23-year-old social entrepreneur and expert on urban youth culture, told the audience, "Live with purpose. When you move through life with purpose it is easy to recognize what you will and what you will not do." Gates, founder and CEO of The SWT Life and author of Just Be Cause, also told students to "take risks" and "surround yourself with people who will not accept anything but your very best efforts."
Words of encouragement were also given by MWCC President Daniel M. Asquino and United Way of Central Massachusetts President Phil Grzewinski.
"Through Youth Venture, I learned to look at my community more in North Central Massachusetts and feel more connected and dedicated to it," said Fall Kick Off volunteer Gage Butler, who participated in the Monty Tech Venture team Appreciate the Arts last year and is now enrolled in the Pathways Early College Innovation School at MWCC, where he is simultaneously earning his high school diploma and an associate degree. Butler embodies what the Ventureres become: helpful, community-driven, individuals who will change their world around them in any way they can.