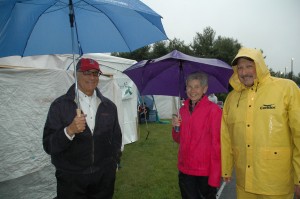 Inclement weather did not dampen the spirits of thousands of area residents who participated in the annual Greater Gardner Relay for Life, held June 7 and 8 at MWCC. The fields and fitness track were filled with those who came out to raise funds for the American Cancer Society.
This year marks the 100th anniversary of the American Cancer Society, the 20th anniversary of the Greater Gardner relay, and the 50th anniversary of Mount Wachusett Community College, which hosts the community event.
By the end of the event, more than $515,600 had been raised, and additional donations will be accepted through the end of June. Over the past two decades, the Greater Gardner Relay has raised more than $12 million, making it the most successful event of its kind in New England and one of the most successful in the country.
The Relay is a tribute to every life that has been impacted by cancer, those who have lost the battle to cancer, and those who provide care to others. Many campsites were decorated to commemorate this year's "heroes" theme.
Members of the MWCC community were among the thousands of participants. The MWCC Relay for Life team, chaired by Vice President of Finance and Administration Bob Labonte, Professor Susan Goldstein, and campus police Lt. Melissa Crouteau, saw overwhelming support from the college community, with coverage for all 24-hours of the walk.
MWCC's team entertained children and adults with a "time machine" that propelled participants into a future that finds a cure for cancer.
For more photos, visit MWCC's Facebook page.