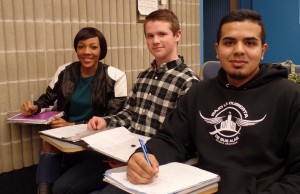 High school and homeschooled students interested in saving money while getting a head start on their college education can choose from several upcoming courses available through the Commonwealth Dual Enrollment Partnership (CDEP) at MWCC. The three-credit courses are being offered at the grant-funded price of $30, including textbooks, for the spring semester beginning January 20. 
Managed and supported by the Massachusetts departments of Higher Education and Elementary and Secondary Education, CDEP provides opportunities for high school students to take college-level courses at a discounted price and earn credit toward their high school diploma and future college degrees.
In September, MWCC was awarded a $50,000 CDEP grant from the Department of Higher Education, which has set a goal of increasing statewide dual enrollment from 2,000 to 3,400 each year. More than 500 high school students are concurrently enrolled at MWCC throughout the college academic year. In addition to CDEP, MWCC's academic programs are available to high school students through traditional full-time and part-time dual enrollment, the Gateway to College program and the Pathways Early College Innovation School.
CDEP provides meaningful and challenging academic experiences to qualified students who otherwise may not have access to an early college experience, and strives to increase the population of high school graduates who are college-ready. The program aims to serve students who are underrepresented in higher education, including first-generation college students and students who come from low income families.
Upcoming spring semester CDEP courses include Digital Imaging (Photoshop) on Mondays from 3 to 6:30 p.m. at MWCC's Gardner campus; Introduction to Sociology on Tuesdays from 3:30 to 6 p.m. at the Gardner campus; English Composition 1 on Tuesdays from 5:15 to 7:45 p.m. at MWCC's Leominster campus; Introduction to Psychology on Tuesdays from 3 to 5:30 p.m. at Leominster High School; Introduction to Criminal Justice on Wednesdays from 3 to 5:30 p.m. at Fitchburg High School; Strategic Management on Thursdays from 3 to 5:30 p.m. at Montachusett Regional Vocational Technical School; and Introduction to Psychology on Thursdays from 3:30 to 6 p.m., also at Monty Tech.
New CDEP students are required to attend a mandatory orientation with completed dual enrollment application and transcript. Parents or guardians are encouraged to attend. Orientation sessions will take place Tuesday, Dec. 29 from 2 to 3 p.m. and Thursday, Jan. 7 from 6 to 7 p.m. in the North Café at MWCC's Gardner campus, and Thursday, Jan. 14 from 6 to 7 p.m. at MWCC's Leominster campus.
All students must meet Accuplacer/Placement requirements, attend or have attended a dual enrollment orientation session, complete a dual enrollment application, provide a high school transcript and payment.
Alexander Ramos Jr. of Leominster said he enrolls in dual enrollment courses to get a head start on his career goal of becoming an attorney. "I want to earn college credit while in high school and I want to challenge myself," he said.
For more information about enrolling in CDEP courses, contact Melissa Bourque-Silva at m_bourque@mwcc.mass.edu or the Division of Access & Transition at 978-630-9248. Additional information about dual enrollment programs can be found online at mwcc.edu/access.