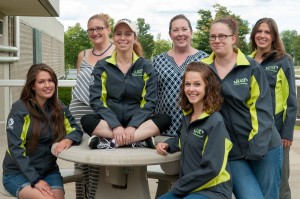 GARDNER – A new program at Mount Wachusett Community College will push a select group of students into a leadership role encouraging others to volunteer in the local community.
The SLiCE program, which stands for Student Leaders in Civic Engagement, has created four paid student positions to serve as liaisons between the community college and partner charities, such as the Leominster Boys and Girls Club and United Way, as well as internal efforts including the Serving our Students office and Center for Civic Learning & Community Engagement.
"It's an amazing opportunity to work together as a team and help other people," said the college's AmeriCorps Vista volunteer, Cathy Teague, who is coordinating the program.
The college developed the program over the past year. Last year's Vista volunteer, John Day, did much of the legwork, and this year Ms. Teague will oversee the pilot program.
"We wanted a paid position that would help forge connections with our partners and encourage students to volunteer," said Director of Community Learning Shelley Errington Nicholson.
Civic engagement is one of the main principles of Mount Wachusett, which prides itself on the number of hours students spend working in the community. In fiscal year 2013, Mount Wachusett students performed 144,000 hours of service learning, volunteerism, internships, co-ops, practicums and field experience in the North Central Massachusetts region, valued at $3.24 million, according to the college.
At times though, those volunteer hours could have used more direction, said Ms. Teague.
Ms. Teague, who served as president as the school's student government association last year, spent a significant amount of time volunteering through Mount Wachusett Community College with Habitat for Humanity.
Sometimes, she said, the work sites could have used a little more direction in order to ensure Habitat received the most help possible and there was adequate work for the students.
This is where the SLiCE students will come in. They will be the "boots on the ground" helping to coordinate efforts, Ms. Nicholson said.
The students — Jana Murphy, Carrie DeCosta, Stevie LaBelle and Chelsea Garrity — will each be responsible for coordinating one site for the year, organizing a special project and working a few hours a week in the Serving our Students center. They will work a total of 500 hours a year.
Ms. Murphy will work with the Boys and Girls Club. Ms. Garrity will work with United Way. Ms. DeCosta will work with Student Life at the Mount, and Ms. LaBelle will work in the SOS office.
The first event planned by the SLiCE students will be on Sept. 11, when they will coordinate students making thank you cards for first responders and members of the military.
Katie Landeck, The Gardner News, Wednesday, Sept. 2, 2015