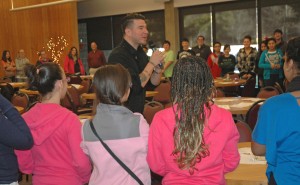 More than 100 area seventh graders visited MWCC's Gardner campus for a leadership conference featuring nationally known spoken word poet, performer and educator Michael Reyes.
The students participated in two of the Division of Access and Transition's federally funded TRIO programs, Educational Talent Search in Gardner, Fitchburg and Leominster, and the North Central Massachusetts Talent Search for students at Mahar, Murdock, Athol and the North Charter Essential School.
Reyes led a humorous, insightful and interactive workshop for the students focusing on their dreams, goals, characteristics of leaders and critical thinkers, cultures, problems in their community and possible solutions. His workshops, keynotes and performances are a combination of interactive discussion and spoken word performances. Audiences are motivated to create solutions and actively discuss issues of self-esteem, social justice and cultural identity.