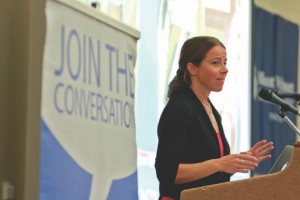 LEOMINSTER — Amid personal stories of struggle — and triumph — the message was clear: Mental illness touches all of society.
More than 300 health-care professionals gathered at the DoubleTree Hotel Thursday to further their mission to promote open discussion of mental-health issues.
"Things are changing, but so much more needs to be done to put mental health on the same playing field as physical health care," said Dr. Anne Procyk, one of the guest experts who participated in the conference's panel discussion.
People from varying fields and backgrounds attended, but all were in agreement when it came to the biggest issue facing those suffering from mental illness.
"The goal is to educate people about mental health, to make them more aware and more sensitive," said Melissa Manzi, a college counselor for conference sponsor Mount Wachusett Community College.
This was the third awareness conference sponsored by the college and it's in collaboration with Heywood Hospital and the SHINE initiative. With more than 300 attendees each year. Manzi said they have reached the point where people had to be turned away because there wasn't enough space left.
"We're involved because we see our students having mental health issues affecting them. We look at it as a need for everyone to be educated," said Manzi.
Among the featured guests were Procyk, a naturopathic physician researching the correlation between physical and mental health, Dr. Phoebe Moore, a clinical and adolescent psychologist specializing in youth anxiety orders, and Robert Bureau, a Rehabilitation Counseling Graduate Program faculty member from Assumption College who has been living with bipolar disorder since 1977.
"When I first started to share my diagnosis I was terrified," said Bureau. "The pain of hiding it can just be overwhelming."
Bureau was not the only guest expert who shared a story of struggle.
Cambridge-based musician Meg Hutchinson was there to speak of her nine year experience fighting bipolar disorder.
"Of the last 18 years, I've spent nine shadow-boxing with something I couldn't understand," she said.
Hutchinson described to the audience how she began slipping into a depression at 19 and how it remained prevalent and untreated for much of her life.
"I spent mornings trying to practice with my face to make it look right. I could smile, but I couldn't get the light back in my eyes," she said.
In addition to her story, Hutchinson performed two songs, one of which was based on Kevin Briggs, the California patrol officer who has prevented 200 suicide attempts on the Golden Gate Bridge.
Events like mental-health awareness conferences and other community outreach efforts have been some of the strongest forces in removing the stigma surrounding the issue, experts said.
In 2004 Fidelity Bank created the SHINE Initiative in an effort to promote awareness.
"For the past few years we've been working on establishing relationships with schools, universities and whoever else wishing to join in the conversation," said SHINE Director Paul Richard. Richard also said that SHINE has begun focusing more on illness facing children and adolescents.
Though children are at risk, Richard pointed out that anyone can be affected, and therefore everyone should be informed.
– Peter Jasinski, Sentinel and Enterprise, Oct. 9, 2015
To view more photos and videos, click here.