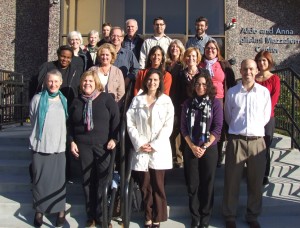 Dr. Susan Albertine, vice president for engagement, inclusion and success at the Association of American Colleges and Universities (AAC&U), met with faculty and staff from MWCC and Fitchburg State University on Oct. 18 as part of the Quality Collaborative Grant awarded by the association and the Lumina Foundation.
The purpose of the Quality Collaborative Project is to test the effectiveness of the Degree Qualifications Profile developed by the Lumina Foundation and AAC&U Expected Learning Outcomes in Written Communication, Information Literacy, Quantitative Reasoning, and Civic Engagement, as a way to establish shared learning outcomes across institutions and to provide recommendations for assessing student learning, fostering faculty leadership, and using student learning outcomes to set transfer policies and practices.
Dr. Ruth Slotnick, director of articulation and learning assessment at MWCC, and Dr. Christopher Cratsley, director of assessment at Fitchburg State, are working with Patricia Crosson, senior associate for academic policy for the Massachusetts Department of Higher Education and a national panel of experts to support this work. This past spring, MWCC and Fitchburg State jointly received the $80,000 grant to create the Quality Collaborative Dyad, one of two proposals funded in Massachusetts and part of a larger, $2.2 million national project funded in nine states.
During the meeting at Fitchburg State, Dr. Albertine emphasized the importance of developing an integrated system of assessment and the critical role that faculty play in providing consistent and clear feedback not only for degree attainment, but for workforce readiness and lifelong learning in the 21st century. Transfer from a two-year institution to a four-year institution represents an important pathway to a baccalaureate degree for many students, including those from traditionally underrepresented groups.
The MWCC and Fitchburg State University Quality Collaborative Team is comprised of 34 faculty and staff members from the two institutions. During the meeting, Dr. Albertine elaborated on the AAC&U and the Lumina Foundation's role in outcomes based assessment efforts and the relationship between institutional assessment efforts and student transfer. Dr. Albertine discussed the importance of collecting student work for assessment, as well as best practices in transfer readiness and norming our rubrics.
She also was the keynote speaker for the fifth AMCOA (Advancing a Massachusetts Culture of Assessment) statewide conference on Oct. 19. The conference brings faculty and staff together to share how Quantitative Reasoning metrics can be used to assess student work across all disciplines at the program and institutional levels.