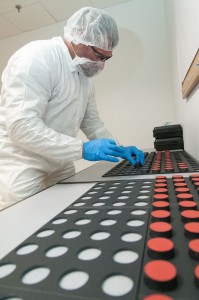 Mount Wachusett Community College is recruiting adults of all ages, experience and education for training in the growing field of advanced manufacturing. Full scholarships are available for eligible students who enroll in an upcoming six-week day program or a five week evening program. Both programs begin on Jan. 27 at MWCC's Devens campus.
Manufacturing accounts for nearly 25 percent of the workforce in North Central Massachusetts, employing more than 14,000 people in the region. The demand for skilled workers continues to grow as a result of new opportunities and the retirement of older workers.
The training programs are designed especially for unemployed or underemployed adults, veterans and recent high school graduates who want to train for careers in medical device manufacturing and related industries. Programs provide students with training in skills required for entry-level employment as technicians in manufacturing, validation, quality control, documentation, process operations and more.
Students who successfully complete the program will earn an MWCC Certificate of Completion, OSHA 10-hour Safety Certification and the National Career Readiness Certificate, while learning about working in the fast-growing, federally regulated, medical device manufacturing field.
The six-week, 180-hour Advanced Manufacturing Career Preparation program will take place Monday through Thursday from 8:30 a.m. to 4:30 p.m. This program is open to students who do not already have a college degree. The course includes hands-on, lecture-based material as well as self-paced KeyTrain curriculum leading to the National Career Readiness Certification.
The five-week, 75-hour Medical Device Manufacturing Program will take place Monday through Thursday from 4:30 to 9:30 p.m. This program is open to students who are currently employed and/or have already earned a college degree.
Students must possess a minimum of a high school diploma or equivalent. Students will have access to staff members who will assist them with the registration process, facilitate access to support services, and help them with their search for employment when they have completed the certificate program successfully. Tutoring and job search support is also available.
Information sessions will take place at the Devens campus, 27 Jackson Road, on Jan. 9 at 9 a.m., Jan. 14 at 10 a.m., and Jan. 15 at 5 p.m. To register for an information session, call 978-630-9569.
Both non-credit manufacturing programs are made possible in part by the Massachusetts Community Colleges and Workforce Development Transformation Agenda (MCCWDTA). MCCWDTA is 100% funded by a $20 million grant from the U.S. Department of Labor, Employment & Training Administration to the Massachusetts Community College system. Tuition support for the day program is supported by a Workforce Competitiveness Trust Fund grant awarded through the North Central Massachusetts Workforce Investment Board by Commonwealth Corporation on behalf of the Executive Office of Labor and Workforce Development.The evening program is funded by a grant to MWCC and Operon Resource Management by the Massachusetts Department of Higher Education Rapid Response Program.