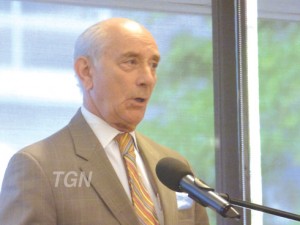 GARDNER  Mount Wachusett Commun­ity College President Daniel As­quino has been the toast of the region ever since he announced he would retire in January 2017.
From expanding school enrollment and new campus facilities, to pursuing green energy and promoting civic engagement, the man has made his mark since he became college president in 1987.  He's the longest-tenured public higher education president in the state.
Asquino and his gentle, humble demeanor is so beloved that three different area Chambers of Commerce organized a breakfast honoring him on Friday morning at the Mount, bringing out a sizable crowd of local dignitaries from the government, business and nonprofit sectors.  Yet despite a heaping portion of praise fueled by syrupy pancakes and second cups of coffee, with seemingly every politician from the area waxing poetically about his contributions — Asquino seemed to be the only one not buying it.
"The truth is, I don't feel I've done anything special," he told the crowd, deferring the accolades instead to Mount staff and students.  The Greater Gardner Cham­ber of Commerce, Nashoba Valley Chamber of Commerce and North Central Chamber of Commerce worked with the school to host the breakfast. Gardner Mayor Mark Hawke, Leominster Mayor Dean Mazza­rella and Fitchburg Mayor Stephen DiNatale spoke. State Rep. Jon Zlotnik, D-Gardner, and state Sen. Anne Gobi, D-Spencer, also spoke, with Asquino's friend, retired state Sen. Stephen Brewer, D-Barre, emceeing the event.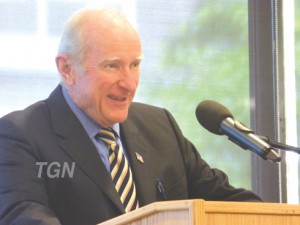 Brewer described Asquino using the words collaborative, disciplined, dedicated and impatient — in the positive sense because the president "wants to get stuff done" — but highlighted that more endearing than all of those other qualities is how Asquino "identifies with the powerless."
As a youth growing up in New Bedford, Asquino's family didn't have a lot of money, but he benefited from a local boys club.  As Mount president, he has been a contributor for the Boys & Girls Club of Fitchburg and Leo­minster and the United Way of North Central Massachusetts.
"His legacy is going to be long," said Brewer.
Hawke spoke about being wowed at Asquino's continuing commitment to civic engagement.  The school has a center for civic learning and, as an example, this year Mount students gave 16,380 hours of their time to local service projects, such as packaging meals to be given to food pantries.
Hawke credited the Mount for steering him in the right direction in his own life during his time as a student there, saying about Asquino, "It's been a joy to watch him weave his magic."
DiNatale recalled being a member of the Joint Committee on Higher Education during his previous job as a state representative, saying the Mount has been a showcase community college. He spoke about how under Asquino's tenure the school has made progress closing the achievement gap, improving graduation rates above the national average, and creating opportunities for veterans.
The school has a Veteran Student Success Center that helps students use veteran benefits and provides academic support.
Zlotnik focused on Asquino's vision for sustainability "before it was commonplace," as the Mount use biomass energy and has two large wind turbines to help power the school's facilities.
In terms of the scope of expansion under Asquino, the Mount now enrolls more than 12,000 students across Gardner and satellite campuses in Fitchburg, Leominster and Devens. Over this summer, construction for a 40,000-square-foot new building for science, technology, engineering and mathematics is being completed at the Gardner campus. In addition, renovations are underway for Theatre at the Mount.
Beyond all of the tangible, measurable progress the school has made in the last 30 years, Mazzarella spoke about the little acts of kindness and consideration that Asquino promoted, like paying for someone else's coffee at Dunkin' Donuts in the morning.
When Asquino took the stage at the end of the event, he too chose to focus on basic human principles, like doing your best and giving it 100 percent every day. "It really is as simple as that," he said.
Reminding the crowd that he still has six months to go before retirement — and suggesting they not plan another large shindig in his honor — Asquino acknowledged he doesn't really know what he will do with the upcoming spare time, still being very much absorbed and working long hours as president. "If you have an idea, let me know," he said. "What I do know is I will certainly miss all of you."