While there's not a lot of pomp and circumstance, there's definitely a feeling of accomplishment and new possibilities. This past August, another group of students received its certificates in Industry Readiness from the Advanced Manufacturing program at Mount Wachusett Community College's Devens campus.
The graduates are a diverse group ranging in age from 19 to 56. Some are looking to begin their careers while others are looking for a fresh start. What they all have in common is the foresight to take advantage of a free six-week program that gives them the skills needed in today's advanced manufacturing workplace.
As part of the program's mission, the graduation ceremony is only one step in the process of helping graduates find good jobs. Right after the ceremony, each graduate sits and talks with representatives from a number of local partner companies looking to hire new employees. You could call it speed dating for jobs. Students are interviewed in a casual setting and get a leg-up in landing a job matched to their training. Everyone leaves the interviews feeling confident that a good job is on the horizon.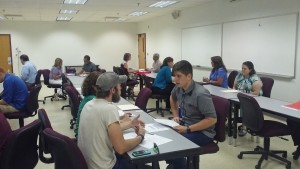 Samantha Wood, the human resource manager for Georgia-Pacific/Dixie Consumer Products in Leominster, is excited about meeting the graduates. "Mount Wachusett offers wonderful programs for training potential workers that also are good springboards for career growth," Wood says. "The speed interviewing process after graduation is a very effective way of getting to meet potential employees one on one in a casual, less stressful environment. The training the MWCC program provides, followed by the speed interviewing, is evolving into an open door to employment."
Dr. John Henshaw, dean of workforce development at MWCC, is proud of the advanced manufacturing program and how it helps graduates and local businesses. He notes that Massachusetts will need to fill 100,000 new manufacturing jobs in the next few years. "We've built a sustainable model where good education leads to good employment," Dr. Henshaw says. "Manufacturing is still a big part of our region, and growing. But the types of manufacturing are changing, and we've created programs that provide pathways to these new jobs and toward building a good career."
Dr. Henshaw is also quick to note the MWCC program has an 80 percent placement rate with students. "We have a proven track record of getting our graduates good jobs," Dr. Henshaw says. "Our programs have excellent content, great equipment for hands-on learning, and a dedicated staff of instructors. The value added is that we also provide training, support, and counseling to help graduates find jobs."
Jorge Rabelo, 19, is one of the program's graduates and he's looking to begin his career. More precisely, he's looking to fulfill his dreams. "I eventually want to create a business." Rabelo says. "The Industry Readiness Training program has given me the start to my dreams. The program offers good skills for advanced manufacturing in a very short period of time. It gave me the experience I need to keep moving forward. My goal is to keep studying and get my degree in bio-manufacturing. Within 10 years I want to have my own company."
Highly motivated, Rabelo's next steps include graduating from the two-week Quality Systems manufacturing training program and then working on his associate's degree at MWCC.
Mount Wachusett Community College's Advanced Manufacturing classes consists of two-week and six-week certificate programs and one-year and two-year degree programs that are designed to complement businesses utilizing automated, computer-controlled production systems. The programs include training in Industry Readiness, Quality Systems (both of which are free of charge), an associate degree in Manufacturing Biotechnology, and an associate degree in Manufacturing Technology. It's all part of the emerging field of mechatronics, which integrates electrical and mechanical systems with computer control and information technology. It's a combination of mechanics and electronics, highlighting the importance of automation and robotics in modern manufacturing processes.
According to Dr. Henshaw, "More and more manufacturing businesses are looking to bring production home to the United States. These businesses are coming to us to help them find qualified people. And many companies are sponsoring the training. Our programs are designed to complement businesses creating injection molding plastics, metal fabrication and tooling, and biotech and medical devices. Today's manufacturing is clean, advanced, requiring a new set of skills in electronics and computer literacy. Everything today is electromechanical. You still need good mechanical ability, but you need to have diverse training in modern technology because it's embedded in everything related to advanced manufacturing today."
That type of training appealed to Industry Readiness graduate Craig Dougherty, 56, who has worked at a variety of labor-intensive jobs. "I've always been mechanically inclined," Dougherty says. "But I knew I needed current training to put all my talents to work in a newer, modern, less strenuous job. Going through this program was an awesome experience. It gave me new skills and allowed me to incorporate and adapt all my prior knowledge. Advanced manufacturing is now in my future. I wish I had done this years ago."
Dougherty is also moving forward at MWCC by enrolling in the Quality System training program and then starting on his associate degree. "I really want to learn as much about robotics as I can," he says. "There really should be a line out the door to get into these programs."
"We have programs to match your individual level, whether you're just starting out or need more training or to advance in your current job," Dr. Henshaw adds.  "A very important part of our program is that we provide training to incumbent workers already in jobs. This helps them get ahead. The hands-on nature of our programs also leads to successful outcomes. Many of our students tell us the hands-on approach works for them because it's more about learning practical things that they use in the workplace. And our free programs help take off the financial pressure."
"Mount Wachusett Community College training programs offer a great background in manufacturing if you're just starting your career or if you've been in the workforce and need to reinvent yourself," says Wood from Georgia-Pacific/Dixie. "The programs provide a sneak peek for future careers. It's up to the individual to take advantage of opportunities, but the programs provide a great introduction, and a more comprehensive, realistic point of view of modern manufacturing. Modern manufacturing is all about automation, technology skills, quality control, and safety. Today's manufacturing is clean and safe. We're committed to our partnership with Mount Wachusett and the possibilities it has for manufacturing jobs within our company and in the region."
"I highly recommend the Advanced Manufacturing program," says new graduate Rabelo. "I can't wait to get started. Help yourself, learn something new, and get the experience you need."
Fellow graduate Dougherty says, " I would recommend the program to anyone. It gave me focus and showed me I still had the vitality to work in the advanced manufacturing industry."
As all the graduates complete their speed interviews and head out, MWCC career development coach Meghan Koslowski says she's pleased with the day's events and that this group is well-prepared for future job success. Because she wants them all to succeed, Koslowski and her team have helped them prepare résumés, coached them on how to interview, and arranged the one-on-one meetings. She will follow up with each of them on their job progress.
"Working in manufacturing is not a natural path for a lot of people today," says Koslowski. "They're unaware of the many opportunities available in manufacturing. The programs we offer at Mount Wachusett can give you the tools you need to be successful in today's advanced manufacturing workplace. Come try us out."
Information sessions about the Advanced Manufacturing program are held most Thursday at 10 a.m. at the Devens campus. For more information or to reserve a spot, please call 978-630-9883 or email ammqc@mwcc.mass.edu.  For more information about the Advanced Manufacturing programs at Mount Wachusett Community College, visit mwcc.edu/manufacturing.