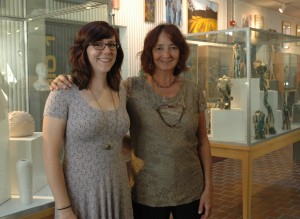 MWCC alumnae Naida Knox and Samantha Hanson returned to the Gardner campus last week for an artists' reception in the East Wing Gallery. Their exhibit, "New Work in Clay," continues through Oct. 12.
Ms. Knox, a 2011 graduate, created her stoneware pieces using hand-building techniques such as pinching, coiling or slab building. Most of the pieces were glazed and fired in the electric kiln, with the exception of beautiful orange and black, smoke-patterned pit-fired work. Many of the high-fire glazes used on the pieces were uniquely mixed by the artist. A whimsical teapot was inspired by a painting by Toulouse Lautrec and the other pieces were initially inspired by the rock formations and natural structures the artist saw on her trip to Utah. Her delightful sense of humor and inventive dialogue with the clay, as a medium in an art tradition, is revealed in all the work.
"When I create a piece I have an idea, but it isn't fully formed. As I work on the piece, the piece creates itself," she said. "At the beginning this work was inspired by natural structures from Utah – a natural growing from the earth, and then my whimsical sense of humor took over. I was surprised at how my inner self and thoughts revealed itself."
Ms. Knox graduated in May 2011 with an associate degree in art, having previously taken classes at Massachusetts College of Art. She has won several awards from local art organizations and continues to be actively involved in the Greater Gardner Art Association, Gardner Area League of Artists, Circle of Artists and the Princeton Portrait Society.
Ms. Hanson created her work in stoneware, also using hand-building techniques as well as the potter's wheel. As an advanced student in ceramics, Ms. Hanson made it her goal to try as many different firing and decorative techniques as possible. This beautiful body of work includes chicken forms that have been burnished with terrasigillata and pit-fired, tall vessels decorated with slips or underglazes, sculpted surfaces with varying incised marks, and several pieces that are bisque-fired and waiting for future decisions about color and surface.
"Growing up on a farm was an amazing experience. It taught me to work hard and to respect everything in life," she said. "I have become more courageous and less timid. This new self-worth has allowed me to explore my love of working with clay. Clay is seductive and once you learn the basics it begs to be made into something beautiful. My recent clay pieces have been inspired from the colorful, playful ink drawings in my sketchbook. The pieces are created by exploring the relationship between the surface of the clay and the new and interesting spaces that I can create. Inspiration for these pieces comes from anywhere and everywhere, my daily life, everything in nature, art history, architecture, modern art and different cultures."
Ms. Hanson graduated in May 2012 with an associate degree in art and is transferring to Maine College of Art, where she was accepted with scholarship.