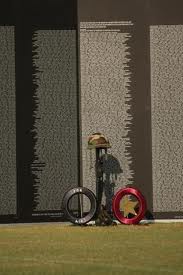 Veterans and active members of America's armed services travel great distances and make great sacrifices to preserve and protect freedom and liberty. How far will you travel to honor their contribution?
The American Veterans Traveling Tribute will bring its Traveling Wall to Mount Wachusett Community College April 10 through 14, in honor of the college's 50th  anniversary. The Traveling Wall, an 80-percent scale version of the Vietnam Memorial Wall in Washington, D.C., will be escorted on April 10 at 3 p.m. by the Patriot Riders Chapter 3 to Gardner City Hall for a brief ceremony, then proceed to the college soccer field. Events and activities will commence on April 11, beginning at 12:30 p.m. when student veterans dedicate a plaque at the college's flagpole.
An opening ceremony will take place at 2 p.m. A candlelight vigil will take place April 13 at 6 p.m. A closing ceremony will take place on April 14 at 3 p.m. before the wall is dismantled.
The exhibit is sponsored by MWCC's student Veterans Group and the college's Center of Excellence for Veteran Student Success, through the generous support of several community sponsors including the Patriot Riders Chapter 3, the VFW Ovila Case Post 905, Vietnam Veterans of America, Montachusett Veteran Outreach Center, Franco-American Vets in Leominster and many other school clubs and outside organizations.
The American Veterans Traveling Tribute is a veteran-owned project committed to travel the nation to honor, respect, and remember men and women who served, and to pay specific tribute to those who gave all in that service. Since the tribute is mobile, it allows people to honor and respect veterans and active military personnel without having to travel great distances to do so.
The AVTT Traveling Wall was completed in 1998 and began traveling that year. Across its 360-foot length, the wall contains every single name etched on the original. At its apex, the memorial is an impressive eight feet tall. AVTT's Traveling Wall is the largest wall replica traveling the country, and is not to be confused with several other replica walls that also share a mutual mission.
For more information about this event contact Andrew Constant, president of The Veterans Group at aconstant1@mwcc.edu or Kristine Larkin, director of the Center of Excellence for Veteran Student Success, at 978-630-9855 or klarkin@mwcc.mass.edu or visit www.avtt.org.