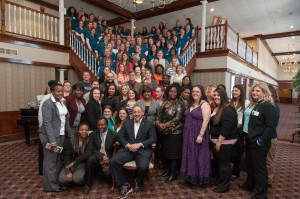 Had someone just smiled and asked if he was okay that September 2000 afternoon in San Francisco, 19-year-old Kevin Hines would not have jumped off the Golden Gate Bridge. The voices in his head, caused by the brain illness of bipolar disorder prevailed, convincing him that he must die. Mid-air, he prayed he would live. Miraculously, he did.
Hines, one of 33 people to survive a jump off the 220-foot bridge and author of Cracked, Not Broken: Surviving and Thriving After a Suicide Attempt, was the keynote speaker during the second annual Mental Health Awareness Conference, sponsored by The SHINE Initiative, Mount Wachusett Community College and Heywood Healthcare.
The half-day conference, held March 27 at the Colonial Hotel, was attended by more than 300 people, including healthcare professionals, educators and students. A panel presentation focused on the stigma associated with mental illness and its impact on seeking diagnosis and treatment; the importance of early diagnosis and treatment, and veterans' post-war health issues. More than 150 MWCC students majoring in nursing and human services participated in the conference and a suicide prevention training session that followed.
President Daniel M. Asquino, Paul Richard, executive director of the SHINE Initiative, and Dawn Casavant, vice president of external affairs for Heywood Hospital, delivered welcoming remarks, and Human services major, Renee Chandler, shared her award-winning poetry reflecting on living with mental illness. College Counselor Melissa Manzi, MSW, LCSW, and College Health Coordinator Diane Kin, RN, BSN, HNC, led a QPR (question, persuade, refer) suicide prevention training program that focuses on how to assist someone is in distress.
Panelists included Dr. Heather Brenhouse, assistant professor of behavioral neuroscience Psychology at Northeastern University; Dr. Stephanie Rodrigues, assistant professor in the Department of Psychiatry's Division of Addiction at the UMass Medical School; and Bryan Doe of the Massachusetts Department of Veterans Affairs.
Approximately 57 million Americans experience a mental health disorder in any given year. Between 70 to 90 percent of these individuals have a significant reduction of symptoms and improved quality of life with combined treatment of medication and therapy.
"Ultimately, resources and time are spent on things that are a priority. Let us make certain that mental health awareness, treatment of mental illness and the sensitivity of mental illness are everyone's priority," President Asquino said.
Hines' presentation provided an inside-look at the thought process and actions, as well as the effect on his family. Born to poor, young parents who struggled with mental illnesses and substance abuse, Hines said he and his birth brother would frequently be left alone in seedy hotel rooms. Within a year, they were taken into child protective services, and bounced in and out of several foster homes. Hines' brother died as a result of neglect and untreated health conditions, while Hines was adopted by loving and supportive parents, Pat and Debbie Hines. In adolescence, what he describes as a "brain disease" began to surface, and at 17, he was diagnosed with bipolar disorder. This imbalance in his brain chemistry resulted in paranoia, mania, horrific hallucinations and grandiose illusions, which he attempted to mask from his family and doctors.
One of the few Golden Gate Bridge jump survivors to regain full mobility, Hines has since shared his story with over 300,000 people to raise awareness about mental illness, treatment, and suicide prevention. He has been featured in the critically acclaimed film "The Bridge," on Larry King Live, 20/20, Anderson Cooper 360, and Good Morning America, as well as in hundreds of national and international print, radio, film, and television media outlets. A signed copy of his memoir is available at the LaChance Library.