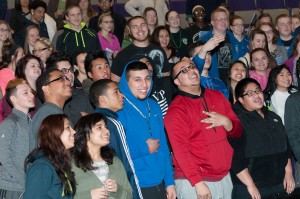 Two hundred area high school juniors were welcomed to Mount Wachusett Community College's annual Juniors Symposium to gain insight into applying to colleges and universities, seeking financial aid and scholarships and related topics to help them succeed.
One hundred juniors from Narragansett Regional, Fitchburg, Sizer Charter and Athol high schools attended the half-day symposium on March 17, while another 100 students from Gardner, Fitchburg, Murdock and Mahar Regional high schools participated on March 19.
The event is one of 18 college access and readiness programs provided by MWCC's Division of Access and Transition to approximately 4,000 middle and high school students in the region.
A pep rally, led by MWCC Dean of Students Jason Zelesky as a new feature of the symposium, served to inspire students with positive, relevant messages about the importance of education and pursuing one's dreams. While a new car will depreciate the minute it is driven from the dealer's parking lot, a college education will gain in value throughout adulthood by enhancing one's earning potential, he explained.
"The work you do every day (as students) translates into real dollars. When you purchase an education, every day that degree is worth more. That value continues to increase. You are making an investment in yourself."
Touching on the theme of applying grit while striving to reach one's goals, Zelesky shared inspiring stories that spanned a century of national events. When shown photographs from the early 20th century, no one in the audience recognized prestigious millionaire Samuel Langley, who was generously funded and well publicized during his efforts to be first in flight. But they did know who the Wright Brothers were, who despite being poor and unknown, succeeded.
He closed the presentation with a social media activity inviting students to share their dreams on Twitter, using the hashtags #grit and #MWCC. Careers in pediatric nursing, occupational therapy, engineering, teaching and the performing arts were among the many responses.